Bank of England keeps UK interest rates at 0.5%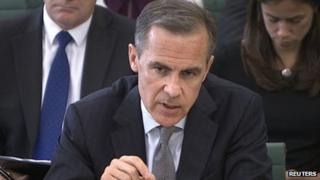 The Bank of England's Monetary Policy Committee (MPC) has again voted to keep interest rates on hold at 0.5%.
It has kept the key borrowing rate at that level since March 2009.
The MPC also said it would make no change to the £375bn of monetary stimulus it is providing through its quantitative easing (QE) programme.
Bank of England governor Mark Carney has said that before interest rates can rise, the unemployment rate needs to fall below 7%.
That stipulation is part of Mr Carney's policy of giving forward guidance.
The idea is to create more certainty for businesses and individuals about the course of interest rates, which may encourage borrowing and investment.
He has forecast that it will take about three years for unemployment to reach his target.
However, there has been speculation that rates may start to go up sooner, given recent indications of healthier prospects for the UK economy.
On Wednesday, the International Monetary Fund lifted its UK growth projection for this year from 0.9% to 1.4%.
'Boring certainty'
"The bar for any more QE now looks to be very high," said Howard Archer of IHS Global Insight.
"It will likely only occur if the economy loses substantial momentum over the coming months, or if there is major financial turmoil and a sharp upward move in market interest rates when the US Federal Reserve finally starts to taper.
"Our central scenario is that neither of these events will happen, but neither can be ruled out."
David Tinsley of BNP Paribas said the decision came as no surprise.
"Overall, UK monetary policy settings for now are on auto-pilot, barring the US debt ceiling debate getting very messy," he said.
"Even on an optimistic basis, the UK labour market is not going to deliver an unemployment rate at 7% for six to 12 months at the very earliest, while inflationary pressures are under control.
"And the Bank has made fairly clear that while it is monitoring house price developments, it is not about to adjust monetary policy in response to those.
"So for now, forward guidance is delivering the sort of boring certainty the new governor was after."