BAE Systems warns over US government shutdown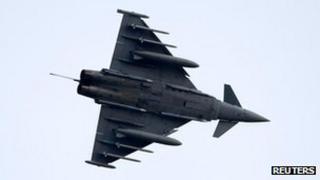 UK aerospace company BAE Systems has said its US operations could be hit if the government shutdown in Washington turns out to be protracted.
BAE said its financial performance had not been materially affected since the budget dispute began on 1 October.
However, 1,200 of its intelligence, security and support staff have been told not to report for work.
The crisis began after Republicans who control the House of Representatives refused to approve a budget.
At the same time, the Republicans have refused to approve an increase in the US debt limit unless it is accompanied by significant spending cuts and other policy concessions.
Republican leaders have called on President Barack Obama to open negotiations over ending the impasses.
However, Mr Obama has accused them of using "extortion" by calling for his healthcare reform law to be delayed or stripped of funding.
BAE is also facing longer-term difficulties in the US, where it derives 40% of its revenues, because of plans to reduce the country's defence budget by $487bn (£320bn) over the next decade.
At the same time, its deal to supply Saudi Arabia with 72 Typhoon jet fighters has hit trouble, following disagreements over the final contract price.
In its latest interim management statement, BAE said its earnings could be hit by 6p to 7p a share if it failed to conclude negotiations on the Saudi deal by the end of 2013.
However, the firm added that it expected a "satisfactory conclusion" to the talks, allowing it to deliver "double-digit growth in underlying earnings per share".
The company has been under pressure to develop an alternative growth strategy following the collapse of its planned merger with European defence company EADS in 2012.