Leading construction firms to set up blacklist fund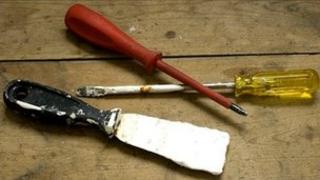 Some of the biggest firms in the construction industry are to compensate workers who were blacklisted from working on building sites.
Trade unions say thousands of people on the list were denied work for years.
The eight companies have apologised for their involvement with an organisation that kept the list but have not admitted liability.
The blacklist was uncovered following a raid by the Information Commissioner's Office in 2009.
It found that dozens of construction firms had been checking potential employees against a blacklist which contained details of about 3,200 workers.
The list was held by a company called The Consulting Association (TCA).
While most on it were members of unions, some had simply raised health and safety concerns on sites.
Code of conduct
In a statement, the companies - Balfour Beatty, Carillion, Costain, Kier, Laing O'Rourke, Sir Robert McAlpine, Skanska UK and Vinci - said they all apologised "for their involvement with TCA and the impact that its database may have had on any individual construction worker".
"At this time we are not able to share any further information on the proposed scheme," they added.
While the construction firms have not admitted liability for any involvement in blacklisting, they are asking unions to work with them to establish a compensation scheme.
They added that they would support the introduction of a code of conduct "to ensure nothing like this can happen within the industry again".
Justin Bowden, national officer for the GMB union, said the next step for the companies was to "clean up and pay up".
"The victims and their families will either be fairly compensated including the offer of jobs or GMB will ensure justice for its members through the High Court," he said.
The union also called for a new code of practice for the construction industry covering how it employs people.
Another union, Unite, described the proposals as "encouraging", but said unions and employers needed to "thrash out the details".
Unite assistant general secretary Gail Cartmail said: "It must be a priority to get blacklisted workers back into work. Unite is calling on contractors to employ and where relevant, support the up-skilling of blacklisted workers.
"Many of these workers have spent years out of work as a result of being blacklisted. Employers have a moral duty to give them back the jobs that were wrongly taken away from them."