Royal Mail shares will be priced at 330p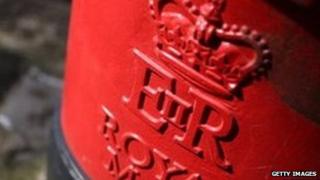 I understand that Royal Mail's shares will be priced at 330p, valuing the whole of Royal Mail at £3.3bn.
This is right at the top end of what the government was hoping for, because there has been a wall of investors' money - considerably more than £12bn - chasing the shares on offer, which are valued at just £1.7bn.
The government was offering shares to investors in the range of 300p to 330p. It has been able to sell at the apex of the range because applications for the shares from retail and institutional investors has been worth well over seven times the value of the shares on offer.
I have also learned that the government will sell the maximum amount of shares it was prepared to do in this initial privatisation, which is 522m shares, representing 52.2% of the company.
That means the privatisation will raise £1.7bn for the Treasury.
The government is giving 10% of Royal Mail to 150,000 of the company's employees, with each of them set to receive shares worth £2,200.
Initially the government will retain a holding of 38%. However it may place a further 8% of the company with investors in the coming few weeks, if demand remains strong, under the so-called green shoe arrangement - leaving the public sector with a 30% Royal Mail stake.
Huge demand
Applications for Royal Mail shares massively outstripped the value of shares on offer.
There were more than 700,000 applications for shares from retail investors. They have offered more than seven times the value of the shares allocated to them, which is around 30% of all the shares on offer.
To put this another way, individuals have put up a massive £4bn or so for shares allocated to them which are being priced at around £517m.
Ministers are expected to decide that those who tried to buy big slugs, those who have made big applications, will be scaled back or may receive no shares at all.
There is a precedent, from the privatisations of BT and British Energy, for those wanting large numbers of shares to receive none.
But investors who applied for the minimum on offer, £750, will probably have their orders met in full.
As for investment institutions, I am told demand for the shares from them has been even greater: the over-subscription exceeds the seven times ratio of small investors.
That implies pension funds, insurers and hedge funds, among other institutions, have put up more than £10bn for shares worth a fraction of that.
Market froth
This means that when shares open for trading on the London Stock Exchange on Friday morning the market price is likely to exceed the sale price of 330p, perhaps by a significant margin.
This in turn may fuel criticism from the Labour party that the company has been privatised too cheaply.
However Vince Cable, the business secretary, told MPs yesterday that they should look beyond the initial market "froth" to where the shares stabilise in the weeks ahead.
Mr Cable has also said that, as far as possible, he wants shares to be allocated to investment institutions, such as pension funds, which he thinks will hold them for the long term, rather than speculators looking for a rapid sale and fast buck.
It is thought that the main attraction for retail investors of the shares is a dividend yield - or income paid to investors - of more than 6%, which compares with interest on bank savings of nearer 1%.
The apparent frenzy to buy shares will bring back memories of the privatisation boom under Margaret Thatcher, when there was a craze for "stagging" privatised companies - or buying shares in a privatisation with the express purpose of selling them quickly for a quick profit.
UPDATE 07.40
First things first.
On the Today Prog just now I said "there's a lot of cash around", when explaining why demand for Royal Mail shares has been strong.
And what I meant is that investment institutions and wealthier individuals are sitting on significant piles of cash, wondering what to do with it - so the prospect of buying shares in a company offering to pay a dividend yield of more than 6%, as Royal Mail is doing, is tantalising for them.
But I was immediately chastised on Twitter by lots of people complaining that they don't see vast pools of cash in the pockets or bank accounts (if they have them) of those close to them.
Which is a relevant point: we do have a bifurcated society, and one that is becoming more bifurcated, between those with significant savings and others with large debts or no spare money at all.
To an extent that explains why, as I also said on Today, the government has decided that well-heeled retail investors who have applied for more than £10,000 worth of shares will get none.
And anyone who subscribed for the minimum entitlement of £750 will receive 100% of what they want.
In between those levels of £750 and £10,000, investors will receive a proportion of what they would like.
'Rewarding Mrs Miggins'
That decision, precisely how many shares to allocate to whom, will be taken in a meeting later today between Vince Cable and Michael Fallon, the Business Secretary and Minister for Business respectively, and the Prime Minister and Deputy Prime Minister.
A government source said to me that ministers wanted to "reward the Mrs Migginses" but not the big professional investors.
I have a few other details on all this to share with you.
When it comes to the proportion of the 522m shares on offer that will go to retail investors, that will be nudged up to perhaps 33%, with institutional investors nudged down to 67% or so.
And when the final tally is made of the amount of investors' money that has been chasing these shares, I think it will be nearer £15bn than the "more than £12bn" I mentioned earlier.
So ministers may be a bit nervous about what the National Audit will conclude, when it does its routine assessment of whether the government has extracted a proper price from the privatisation.
UPDATE 09.30
I have been caught in the middle of a disagreement within the coalition about how to allocate Royal Mail shares.
There are two options. One of them is for there to be a zero allocation to those who applied to buy more than £10,000 worth of Mail shares.
That option is favoured by Vince Cable, I understand.
But there is another option, with a different cut-off price for zero allocation of shares.
I was told earlier that the decision to go for the cut off at £10,000 plus had been taken.
I have now been informed that the decision will in fact be taken in the coming hours.
It may turn out that my report of zero shares for those applying for more than £10,000 worth will be right. Or it may not.
Which leaves me feeling a little bit foolish, but that's not so unusual.
UPDATE 15.02
I think (phew) my slightly previous assertion, that those applying for more than £10,000 worth of shares are to get zero, will turn out to be true.
Confirmation is not far off.
UPDATE 1740
The allocation of shares turns out to be very simple. If you've applied for up to £10,000 of shares, you will get £750 worth of shares. It is no more complicated than that.
And the appetite from investment institutions for these things turns out to be enormous. They put up money worth a staggering 20 times the value of the shares on offer to them.
So on my calculation, retail and institutional investors offered £27bn for shares priced at £1.7bn (as I mentioned earlier, retail investors offered 7 times the value of shares allocated to them).
The argument about whether Royal Mail was priced too cheaply will run and run.