Santander latest bank to join Help to Buy scheme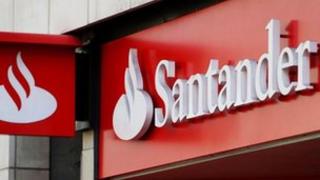 Santander has become the latest bank to say it will sign up to the government's Help to Buy scheme.
That means that of the biggest banks, only Barclays and Nationwide Building Society have yet to say they will join.
The government's initiative is designed to allow those who can afford only small deposits to buy a home.
A Santander spokesman said the bank was looking to offer loans up to 95% of the value of homes under the scheme, but was still working on the details.
Other lenders have already unveiled the cost of mortgages they plan to offer.
RBS, NatWest and Halifax will start taking applications this week, with HSBC, Virgin Money, Lloyds, TSB and Aldermore joining later. That means lenders representing about 40% of the UK mortgage market have committed to the scheme.
Rates
RBS and NatWest are offering a two-year, fixed-rate mortgage starting at 4.99% for those with a 5% deposit, with no fee.
RBS, which owns NatWest, said it had already filled all of its mortgage appointments across its branch network for the rest of the week. And it said its new online Help to Buy pages were being viewed 40 times per minute.
Halifax will be taking applications by the end of the week at a rate of 5.19% with a £995 fee for those with the same deposit.
Prime Minister David Cameron said he was happy with the interest being shown so far.
"I am very content that we are going to get a good range of products in the market and that is going to help people who want to get on to the housing ladder, who want to own their own home, who can afford mortgage payments but can't currently get mortgages," he said.
"Those are the people we want to help."
Comparisons on the interest rates are difficult, as there are so few 95% mortgages on the market at present.
The most competitive, widely available two-year fixed rate mortgage before Help to Buy, for those offering a 5% deposit, has an interest rate of 5.95%, according to financial information service Moneyfacts.
For those able to offer a 10% deposit, the cheapest mortgage deal was 3.54%, with a fee of £1,675, Moneyfacts said.
Guarantees
The first phase of the Help to Buy scheme in England started in April, when buyers of newly built homes were eligible for a 20% equity loan from the government on top of their 5% deposit.
Similar schemes are operating in Scotland and Wales.
Under the second phase, buyers across the UK only need to provide a small deposit, with the government offering a guarantee of 15% of the loan to the lender - for a fee - to encourage the bank or building society to offer the loan.
That fee charged to the lender is up to 0.9% of the original loan level. This is a one-off fee dealt with entirely by the lender, which guarantees 15% of the mortgage for seven years.
Borrowers who apply will face checks to make sure that they can afford the mortgage payments. The Council of Mortgage Lenders (CML), which represents lenders, said affordability checks would be as "rigorous" as they were with any borrower.
The scheme will be available for first-time buyers and home movers borrowing to buy new and old homes valued at no more than £600,000. It is expected to continue for three years.
It means a buyer looking to purchase a home costing £200,000 would have to put down a deposit of around £10,000.
Demands have been much higher than this for many first-time buyers since the start of the financial crisis, usually about 20% of the value of a home.
House price calculator
Use our calculator to see where you can afford to rent or buy