Tobacco smuggling: HMRC 'failures' highlighted by MPs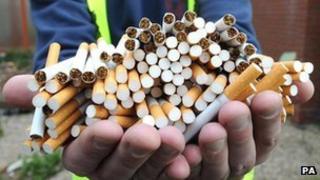 MPs have warned that HM Revenue and Customs (HMRC) initiatives to fight tobacco smuggling are not working.
The Public Accounts Committee (PAC) said the UK economy lost £1.9bn a year through tobacco smuggling, equal to 20% of all tax collected on cigarettes.
Some tobacco firms oversupply other European countries and the surplus enters the UK tax-free, the PAC said.
The HMRC says it has more than halved the size of the illicit market in cigarettes.
'Painfully slow'
But the PAC report said the HMRC was "in the dark" about how effective its enforcement strategy was.
PAC chair Margaret Hodge said she was concerned that three out of five new HMRC initiatives to tackle smuggling had produced nothing by March 2013.
"The Department and Border Force have been painfully slow in taking forward new proposals to improve performance," she said.
She added the two government agencies had failed to make a realistic assessment of what could be achieved and by when.
Ms Hodge also said the HMRC had "failed to challenge properly those UK tobacco manufacturers who turn a blind eye to the avoidance of UK tax by supplying more of their products to European countries than the legitimate market in those countries could possibly require".
"The tobacco then finds its way back into the UK market without tax being paid," she added. "The supply of some brands of hand-rolling tobacco to some countries in 2011 exceeded legitimate demand by 240%.
"HMRC must be more assertive with these manufacturers. So far it has not fined a single one of them," she said.
An HMRC spokesman said the customs body had more than halved the size of the illicit cigarette market, highlighting the seizure of nearly 3.6bn cigarettes and more than 1,000 tonnes of rolling tobacco since 2011.
"Disrupting criminal businesses is at the heart of HMRC's strategy to clamp down on this illicit trade," he said.
"The tobacco smuggling gangs are constantly adapting to the huge downward pressure HMRC puts them under. This pressure has caused the long-term decline of this illegal trade."