US eyes future World Cup football hosting opportunity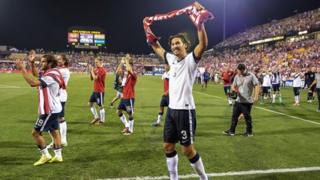 The United States Soccer Federation (USSF) says it would be interested in hosting the World Cup football tournament again.
The country last held the event in 1994, in front of sell-out crowds. Since then, the team reached the World Cup quarter-finals in 2002.
The US, a regular qualifier for the tournament, recently went through to the 2014 competition in Brazil.
It was one of the losing bidders for the 2022 World Cup.
The others were South Korea, Japan and Australia.
"We would be interested in hosting it again - the next one that would be available is 2026," said Sunil Gulati, president of the USSF and a member of Fifa's executive committee.
But following the furore surrounding the way in which the 2018 and 2022 World Cups were awarded, he admitted that "the bidding process needs to improve".
Mr Gulati said the US would not be following Australia in seeking compensation over any move by Fifa to move that 2022 event - to be held in Qatar - to the winter.
Australian FA chairman Frank Lowy has said Fifa should provide "just and fair" compensation to losing bidders if the World Cup is moved from the summer.
Everything in place
"We have not discussed it," Mr Gulati said at the Leaders in Football conference in London.
"It was a difficult decision, a controversial decision [by Fifa], " he added.
He said one of the weaknesses of the US bid might have been that it had hosted the event as recently as 1994, but a strength was that it had all necessary stadiums already in place to host a World Cup.
The Australian football association, the FFA, spent A$43m (£25m) on its dual bid to host either the 2018 or 2022 World Cups, with most of the cash provided by the government.
But Fifa has indicated there is little chance of Australia being awarded compensation.
On any proposed 2022 move to winter, Mr Gulati said it would "be nonsense to rush" a decision.
Turning to the US again, he said that should the World Cup be moved to January or February, then Fifa would have to engage in discussions with American TV broadcasters.
In the first two months of the year, the NFL American Football season comes to a climax, providing a ratings winner for the US networks.
Mr Gulati said there would need to be "a thoroughly vetted study" looking at all existing commercial contracts around the 2022 event, including those between Fifa and US broadcasters.
And he said there was no chance of Fifa asking the NFL to move its season to fit in with the football World Cup.