Royal Mail shares 'will be priced at top of range'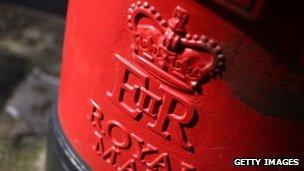 Royal Mail's shares will be priced at 330p, valuing the whole of Royal Mail at £3.3bn, the BBC has learned.
The price is at the top end of what the government was hoping for, after applications massively outstripped the number of shares on offer, BBC business editor Robert Peston reported.
The government will sell 52.2% of the company, the maximum it was prepared to sell at this stage, our editor added.
That puts the value for the Treasury of the privatisation at £1.7bn.
On Tuesday, Business Secretary Vince Cable said the Royal Mail share-offering for private investors was seven times over-subscribed, with 700,000 applications in total.
Speaking to a committee in parliament, he said he was "confident" the shares were "priced in the right place".
Shares will begin full trading on Tuesday, priced between 300p and 330p.
Mr Cable's comments come after criticism from Labour that the shares were being sold too cheaply.
The deadline for the general public to buy shares was on Tuesday.
Shares were initially priced between 260p and 330p, but strong demand led the government to revise the figures up on Friday last week.
Private investors were offered 30% of the shares, with the rest being sold to institutional investors such as pension funds and insurance companies.
The offering for institutional investors was also heavily over-subscribed, he said.
Under the terms of the share sale, a 10% stake in the business has been reserved for Royal Mail employees.
Royal Mail said the fundraising would provide it with the money needed to modernise and compete in a competitive parcels market.
Mr Cable was asked by MPs how he would protect the company from retail investors selling quickly for short-term profit.
He said: "Obviously we can't account for how the retail investors use the shares when they have acquired them."
He said the government was "committed to protecting that particular group", adding smaller private investors were probably not looking to "make a killing".
He added that he was "absolutely confident" that shares would be placed with long-term investors, as the government was not just looking for the highest bid, which could encourage short-term investors such as hedge funds.
Shadow business secretary Chuka Umunna criticised Mr Cable on Monday for "short changing" taxpayers.
But Mr Cable said Labour's criticism was "irresponsible" as it could imply an "easy bargain" could be had.
Mr Umunna also said the £750 minimum application was too high.
Danny Cox, head of financial planning at Hargreaves Lansdown, said recent political wrangling over the share price would not make much difference who decides to sell or not.
"People will decide to buy or hold the shares based on their own views about how the price would change in the first few days," he said.
Related Internet Links
The BBC is not responsible for the content of external sites.