Equitable Life compensation payment deadline extended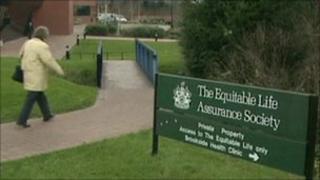 A deadline for savers who lost money in the Equitable Life scandal to claim compensation has been extended to the middle of 2015.
The planned cut-off of March 2014 was criticised as "arbitrary" in a report by a committee of MPs in October.
The insurance company came close to collapse in 2000, in one of the UK's biggest financial scandals.
The Treasury said that up to 400,000 savers who lost money had still not received compensation payments.
A national advertising campaign to encourage eligible policyholders to come forward will be launched in the next few weeks.
Criticism
After years of official inquiries into the scandal, the government agreed to a compensation system in 2010, with the first payments being made by June 2011.
But the report by the Commons Public Accounts Committee, published in October, said that one in five policyholders might not be traced before the March 2014 deadline.
It criticised the lack of publicity to reduce the number of people who might miss out, and suggested not enough preparatory work had been done ahead of the compensation scheme starting. Only £168m was paid out by March 2012, rather than the expected £500m.
Now the government has decided to extend the deadline to try to locate thousands of savers whose addresses are unrecorded.
"We have made strong progress, but we want to maximise the number of people who will eventually receive payments, which is why we are extending the Equitable Life payment scheme to mid-2015," said Sajid Javid, Financial Secretary to the Treasury.
Paul Weir, spokesman for the Equitable Members' Action group (Emag), said: "We are delighted that the Treasury has listened.
"It is vital that the Treasury complete the task of tracing those who are entitled to compensation and we will be working with them to assist that process."