Big rise in demand for mortgages, lenders tell Bank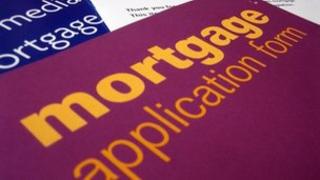 Lenders have told the Bank of England that demand for mortgages "increased significantly" in the summer, and they expect it to keep rising.
They also said demand from homeowners remortgaging picked up sharply in the third quarter of the year.
The availability of these home loans also increased, although this could stall in the final months of the year, they said.
The views were reported in the Bank's Credit Conditions Survey.
Lenders also expected demand from businesses for loans to increase over the next three months.
Rising confidence
The report said that low mortgage rates had been behind the increased interest from home seekers and owners.
This was the result, in part, of the Bank's Funding for Lending scheme, which allows cheap funds to go to lenders assuming that they pass these on to consumers and businesses.
An improvement in consumer confidence and rising house prices had also created more demand for home loans, the survey suggested.
Mark Harris, chief executive of mortgage broker SPF Private Clients, said lenders were still conducting strict affordability checks on potential customers.
"Lenders are keen to stress that they have not changed their risk appetite, suggesting that they are as stringent as ever on underwriting with no relaxation on credit scoring," he said.
"This is admirable but lenders do want to increase their market share. If they are set to undershoot their targets, now is the time when they need to offer more competitive products. This should be excellent news for borrowers."
The increase in demand for mortgages was not matched by consumer demand for borrowing on credit cards or personal loans, or by demand for business loans in the third quarter of the year.