Alitalia supplier warns over fuel supply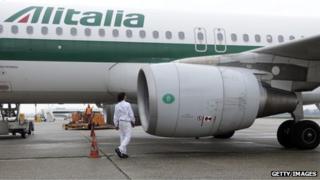 Alitalia risks having its fuel supply cut off on Saturday unless it can reach a deal to keep its business going.
Italian oil firm ENI will stop supplies unless it is reassured by Alitalia's management and the government that it can keep operating.
Alitalia is trying to raise 100m euros ($136m; £84m) from its shareholders to avoid bankruptcy.
Shareholders, which include Air France KLM, are due to vote on a financing deal on 14 October.
Oil firm, ENI is owed around 30m euros by Alitalia.
Its chief executive Paolo Scaroni said he could not provide credit "to a company whose future seems no longer assured".
Alitalia was rescued from bankruptcy in 2009 by a consortium of investors.
Under the deal Air France KLM took a 25% stake in the carrier.
'Tug of war'
Analysts say Air France KLM wants to buy the rest of Alitalia.
But the French carrier is unlikely to want Alitalia's debt burden and would probably want to make deep cost cuts.
"This is a tug of war over the price," said Andrea Giuricin, a transport analyst at Milan's Bicocca University.
"Air France KLM would like to buy Alitalia as cheaply as possible, preferably without having to take on its debt, while the Italian shareholders want to get something out of this as well."
Reports say that Italy's civil aviation authority ENAC will meet company executives this week to assess whether Alitalia is a viable concern.
On Tuesday the government held talks with the company to resolve the crisis and further talks are due this week.