Wal-Mart ends Indian joint venture with Bharti Enterprises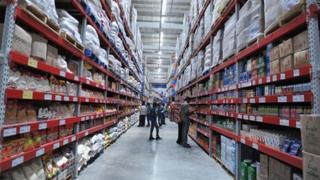 Wal-Mart, the world's biggest retailer, has agreed to dissolve its joint venture with one of India's leading business groups, Bharti Enterprises.
Wal-Mart will acquire Bharti's stake in the venture, which operates wholesale cash and carry stores in India.
The US firm said that it was still keen to grow its business in India.
It said it would "continue to advocate for investment conditions" that allow foreign direct investment in multi-brand retail in the country.
"Through Walmart's investment in India, including our cash and carry business, supply chain infrastructure, direct farm programme and supplier development, we want to serve India and its people," Scott Price, chief executive of Wal-Mart Asia said in a statement.
Relaxed rules
India opened up its multi-brand retailing sector to foreign investors last year. But so far no foreign firm has applied to enter the market.
Many industry players and analysts have said that strict pre-conditions attached to investments have kept companies away.
Prompted by these concerns, India eased key rules governing foreign direct investment (FDI) in the sector in August this year.
The previous rules made it mandatory for foreign supermarkets to source 30% of their products from small Indian firms.
The government has retained that requirement, but says foreign firms will be given five years in which to reach that target, giving them the option of importing goods from overseas initially.
Foreign retailers will also be allowed to set up shop in cities with a population of less than one million, which they had been barred from earlier.