Japanese bank Mizuho knew about $2m loans to gangsters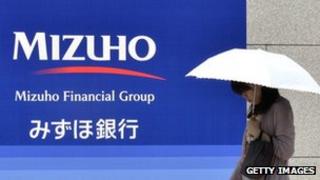 Mizuho Financial Group has admitted senior managers knew three years ago that the bank had lent money to Japanese criminal gangs.
The group's president, Yasuhiro Sato, made the admission during a news conference in Tokyo on Tuesday.
The bank had previously denied knowing about the loans to yakuza gangsters, worth 200m yen ($2m; £1.28m).
Last week, Japan's Financial Services Agency (FSA) said Mizuho had taken "no substantial steps" to tackle the issue.
Mr Sato said an internal investigation this week showed former president Satoru Nishibori was made aware of the loans when they first came to light in 2010.
'Serious problems'
Mr Sato said Mr Nishibori had been told about the loans in a report to the board of directors.
He admitted he was also "in a position to be aware of this problem", adding: "I can't help but say that levels of our recognition and sensitivity were low. I don't think I'm not responsible."
Mr Sato said he would not be resigning from the group, but would step down from the government's council for industrial competitiveness.
It said there were "serious problems" with Mizuho's compliance monitoring and ordered it to raise the standards of its business practice.
Loans had been made through a credit agency to "anti-social forces", the FSA said.
Mizuho also declined an award for banking transparency from the country's Securities Analysts Association.
The analysts had nominated the bank for its "attitude for proactively disclosing information that may not necessarily benefit the firm or even about the company's weak points".