Royal Mail: Just 368 staff chose not to accept free shares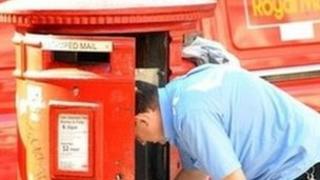 Just 368 out of the Royal Mail's 150,000 staff have chosen not to accept free shares in the privatised company, the BBC has learned.
Latest figures show that 99.75% of staff have accepted the share offer, which will be worth about £2,000.
BBC political correspondent Norman Smith says government sources hope the overwhelming acceptance will undermine the threat of sustained strike action.
The public can apply for the shares online until Tuesday 8 October.
Members of the Communication Workers Union (CWU) are voting on whether to strike over the government's privatisation plan.
The ballot closes on 16 October and strike action could begin as early as 23 October.
Our correspondent says that the government hopes that the backing of postmen and women for the share sale "might have drawn the sting" from any industrial action.
"Ministers deliberately opted in Royal Mail staff to the share scheme, so those wishing to reject the offer had to fill out a lengthy form," he said.
The Royal Mail sale has been heavily oversubscribed, meaning that members of the public are unlikely to get all the shares they have applied for.
The oversubscription has sparked a row over whether this means that the service is being sold off too cheaply.
Business Secretary Vince Cable has written to Labour's Chuka Umunna rejecting his assertion that the sale is "short-changing" taxpayers, while providing a windfall for hedge funds and professional investors.
Mr Cable said the criticism was "irresponsible", as it may imply an "easy bargain" was to be had.
Most private investors will not know how many shares they have been allocated until after unconditional trading on the London stock market starts on 15 October.
According to the Royal Mail prospectus, investors who applied online will get an "email within two days" of the start of full trading. People who applied by post will receive a letter "by post within one week".
Included in the emails and letters will be details of how private investors can dispose of their shares.
Investors who applied via a stockbroker are likely to be told their allocation by their broker on Friday, the day the final price of the shares is set.