Akira Amari: Abenomics may take 10 years to work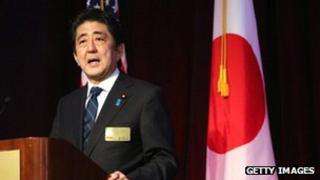 Japan's aggressive policies aimed at reviving its economy may take 10 years to have a full impact, Akira Amari, Japan's minister in charge of economic revitalisation, has told the BBC.
Known as Abenomics, these include easing monetary policy, boosting stimulus and reforming key sectors.
Some of these steps have already been introduced and have boosted growth.
But he warned that while it is easy to implement monetary stimulus measures, scaling them back can be tricky.
He told the BBC's chief business correspondent, Linda Yueh, that Japan's central bank was likely to "learn from the experiences" of the US Federal Reserve, which is widely expected to reduce its key stimulus programme in the coming months.
"The Fed Chairman, Ben Bernanke, is experimenting with it," Mr Amari said in an exclusive interview with the BBC.
"That's why one word from him can move stocks and currencies."
'Dozens of targets'
Japan's Prime Minister, Shinzo Abe, who came to power in December last year, has made reviving the economy his top priority.
He has unveiled a series of aggressive measures to try to achieve that.
The measures are based on what are known as the "three arrows" - monetary policy, fiscal stimulus and structural reforms - to ensure long-term sustainable growth in the world's third-largest economy,
The first arrow of monetary policy is aimed at ending Japan's nearly two-decades-long fight with deflation or falling prices.
One of the first steps that Mr Abe took was to get Japan's central bank to double its inflation target to 2%. He has even suggested that the bank should print "unlimited yen" to help achieve its inflation target.
The second arrow has prompted Mr Abe's government to announce plans to boost government spending on infrastructure, in order to help boost growth further.
Mr Amari told the BBC that the steps had already had a positive impact on the Japanese economy.
Revised data released last month showed that Japan's economy expanded 0.9% in the April-to-June quarter from the previous three months. That translates into an annualised growth of 3.8%.
Meanwhile, consumer prices in Japan have now risen for three months in a row.
Mr Amari said that the third arrow - reforming key sectors - was aimed at encouraging private investment in the country, which will aid growth even more.
He said that "Abenomics aims to raise total capital investment by 10% within three years", adding that the target was not a difficult one to achieve.
"It can be achieved in one-and-a-half years. The aim is to replace low productivity facilities with higher productivity ones."
However, he added that the government had "dozens of targets" in terms of sectors where it wants to boost investment and "each has its own timeframe, whether it's three or 10 years".
He said the government planned to introduce tax incentives, to encourage companies to increase their investment.
"By increasing investment by 10%, growth will be raised by 1.3%," he added.