National Grid warns of winter blackout risk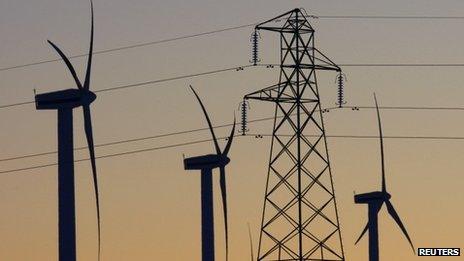 The risk of blackouts this winter is higher than at any time over the past six years, National Grid has said.
The operator of the UK's electricity network said the difference between the power being generated and estimated peak demand could fall to levels not seen since the winter of 2007-08.
However National Grid said it was "comfortable" with the margin.
"As long as the market responds in the way that it has done historically then we will be absolutely fine", it added.
As a result of the tight margin, National Grid said it expected to have to issue more warnings to the market to encourage energy firms to bring on extra supplies.
The number of coal-based power plants operating across the UK has fallen sharply over the past year due to the effects of EU legislation which has caused older polluting coal and oil power plants to be turned off.
The situation has been exacerbated as some gas fired plants have also been mothballed due to economic pressures.
Chris Train, director of market operations at National Grid, said despite the series of power station closures since last year, it was still confident the market could meet demand, even in the event of another prolonged cold spell such as in March this year.
"As the system operator, we're never complacent. It's up to us to be ready to balance the system in real time. We believe we are ready and have the tools we need to play our part," he added.
In June, energy regulator Ofgem said that risks to security of electricity supply - the danger of the lights not being kept on - had increased due to the UK's shortage of power stations and new wind farms.
It also warned that the risk of electricity customer disconnections would "appreciably increase" albeit from near-zero levels.
Angela Knight, chief executive of Energy UK, which represents energy companies, said the tight margin between supply and demand demonstrated investment was "urgently needed".
"This is not scaremongering. What we need right now is clear, pragmatic energy policy to keep energy affordable, long-term certainty to attract vital investment and the necessary back-up to ensure we have energy security when and where it's needed."
A spokesman for the Department of Energy and Climate Change said it would work closely with both National Grid and the energy industry to monitor energy supplies through the winter.
"Our infrastructure has the capacity to deliver over twice average winter demand for gas, and has coped well with recent extreme winter conditions," he added.
Related Internet Links
The BBC is not responsible for the content of external sites.