Kate Moss in new Topshop tie-up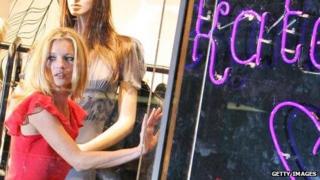 The model Kate Moss is to return to Topshop for a new collaboration, three and a half years since her last collection for the high street brand.
The first instalment of the clothing line will be released in shops in April 2014.
Kate Moss's partnership with Topshop, owned by retailer Sir Philip Green's Arcadia group, first began in May 2007, and ended in 2010.
The new range will be sold in 40 countries.
Kate Moss, one of the world's most successful and recognised models, has recently been involved with other product ranges for brands such as accessories company Longchamp and Carphone Warehouse.
Danielle Pinnington, managing director of shopper research agency, Shoppercentric said that she hadn't predicted this latest collaboration, but it had proved successful the first time around.
"It did go well before, especially at the start - but that's because it was breaking new ground, and there was a huge marketing push behind it. Whether it can have the same impact again, I would question".
Ms Pinnington added that celebrity link-ups with retailers are now all over the high street.
"There are an awful lot of these celebrity collaborations now across the fashion sector."
But, she says, Kate Moss still has a "fast fashion and broad" appeal.
Expansion plans
In June of this year Topshop opened for the first time in Hong Kong, despite the city's high commercial rents.
As the area's retail hub, traditionally tourists from mainland China have flocked to Hong Kong for shopping trips.
The move into Hong Kong was helped by Sir Philip Green selling a 25% stake in his Topshop and Topman chains in late 2012 to a US private equity group, Leonard Green and Partners. The deal valued the two brands at £2bn.
Some of the money from this sale was used to pay off company debt, while the rest was used to help pave the way for expansion plans.
The Arcadia Group, which employs 45,000 people, was taken over by Sir Philip Green in 2002. It includes other high street names such as Miss Selfridge and BHS.