Help to Buy scheme extension costs being unveiled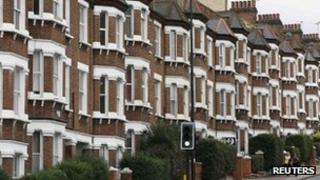 Banks have begun to unveil mortgages which they will offer under the expanded Help to Buy scheme.
The government's initiative is designed to enable buyers who can afford only small deposits to buy a home.
RBS, NatWest and Halifax will start taking applications this week, with HSBC and Virgin Money joining later.
There have been concerns the scheme could fuel a housing price bubble, but Treasury Secretary Danny Alexander told the BBC that there is no UK price boom.
"People who think that there's a housing bubble should get out more. They should get out of Kensington and Chelsea, and go to Manchester or Birmingham, and major towns across the country," he said.
He said the scheme would help those people who did not have "piles of cash" for a mortgage deposit.
RBS and NatWest are offering a two-year, fixed-rate mortgage starting at 4.99% for those with a 5% deposit, with no fee.
Halifax will be taking applications in a few days at a rate of 5.19% with a £995 fee for those with the same deposit.
HSBC said it would join the scheme later in the year, with Virgin Money and Aldermore saying they would offer Help to Buy mortgages from January.
Guarantees
The scheme is getting under way as surveyors report their sales levels are at their highest for nearly four years.
The Royal Institution of Chartered Surveyors (Rics) said a large majority of surveyors were expecting house prices to rise.
The first phase of the Help to Buy scheme in England started in April, when buyers of newly built homes were eligible for a 20% equity loan from the government on top of their 5% deposit.
Similar schemes are operating in Scotland and Wales.
Under the second phase, buyers across the UK only need to provide a small deposit, with the government offering a guarantee of 15% of the loan to the lender - for a fee - to encourage the bank or building society to offer the loan.
That fee charged to the lender is expected to be up to 0.9% of the original loan level. This is a one-off fee dealt with entirely by the lender, which guarantees 15% of the mortgage for seven years.
Those who apply will face checks to make sure that they can afford the mortgage payments. The Council of Mortgage Lenders (CML), which represents lenders, said affordability checks would be as "rigorous" as they were with any borrower.
The scheme will be available for first-time buyers and home movers borrowing to buy new and old homes valued at no more than £600,000. It is expected to continue for three years.
It means a buyer looking to purchase a home costing £200,000 would have to put down a deposit of around £10,000. Demands have been much higher than this for many first-time buyers since the start of the financial crisis, usually about 20% of the value of a home.
Best buys?
Prime Minister David Cameron announced at the Conservative Party conference that the second phase of the scheme would be brought forward by three months from January.
A number of lenders have expressed an interest in joining the second phase. Lloyds Banking Group and RBS are the most prominent. Other lenders have yet to commit.
Some products from the Halifax and Bank of Scotland will be available from Friday, with deals from other lenders expected to be in place by January.
Comparisons on the interest rates are difficult, as there are so few 95% mortgages on the market at present.
The most competitive, widely available two-year fixed rate mortgage before Help to Buy, for those offering a 5% deposit has an interest rate of 5.95%, according to financial information service Moneyfacts.
For those able to offer a 10% deposit, the cheapest mortgage deal was 3.54%, with a fee of £1,675, Moneyfacts said.
Price rises
An influential group of MPs has echoed concerns about the potential effect of the Help to Buy scheme. The Treasury Select Committee said that great care was needed from the government when setting up and running the scheme.
"Mistakes could distort the housing market or carry threats to financial stability," it said.
It said that - without care - the scheme could raise house prices, rather than stimulate the number of homes for sale.
"We continue to believe that the government of the day will face strong incentives to extend the scheme, with the attendant risk that the mortgage guarantee scheme becomes a permanent feature of the UK mortgage market," it said.
Last month, Chancellor George Osborne asked the Bank of England's Financial Policy Committee (FPC) to make annual reviews of the scheme, starting next September. The committee had been due to make an assessment only after its first three years of operation.
Treasury officials said that the FPC would advise on the fee that lenders have to pay, which could be changed each year, and whether to change the £600,000 limit.
Mr Osborne said that the housing market was recovering from low levels of activity and the latest extension of Help to Buy would help many more people get a foot on the ladder.
Mr Alexander said the Treasury Committee was right to say that Ministers should keep a close watch on Help to Buy. "We will make adjustments if they (the FPC) recommend them," he said.
He also rejected criticism that the government should be tackling a house supply shortage, rather than demand. "All the housebuilders tell us is that what is holding them back (building more houses) is a lack of demand," he said. "There are lots of other policies that this government is doing to tackle demand."
Chris Leslie, shadow chief secretary to the Treasury, questioned whether homes as expensive as £600,000 should be included in the scheme, and said that more affordable homes should be built.
"Unless George Osborne acts now to build more affordable homes, as we have urged, then soaring prices risk making it even harder for first-time buyers to get on the housing ladder. You can't tackle the cost of living crisis without building more homes," he said.
House price calculator
Use our calculator to see where you can afford to rent or buy