Financial firms' optimism at new highs, says CBI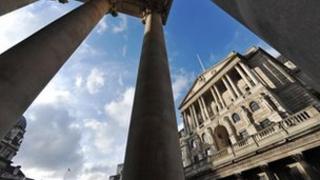 Optimism among UK banks and financial firms is at its highest for almost 17 years, a survey from the CBI business lobby group has suggested.
Its quarterly survey, carried out with PricewaterhouseCoopers, found 59% of firms said they felt more optimistic, against 6% who were less optimistic.
The balance, of 53%, is the highest since December 1996.
The survey also found 24% of firms in the sector had increased staff numbers, the biggest rise in six years.
The CBI/PwC survey of 99 companies covered the three months to the start of September
The study estimates that 10,000 jobs were added in the period studied, with another 2,000 expected to be created in the current quarter, taking total employment in the sector to 1.14 million.
The one negative point came from business volumes, which the survey indicated had fallen in the latest quarter. Some 22% of firms reported a rise in business volumes, but 32% said they had fallen.
Kevin Burrowes, from PwC's UK financial services division, said: "Banks' optimism is increasingly buoyant despite seeing a slight seasonal blip in commercial and industrial volumes.
"Activity and profitability are expected to grow as the economy recovers, and investment in new products and infrastructure is increasing."