South Africa car workers end strike after agreeing pay deal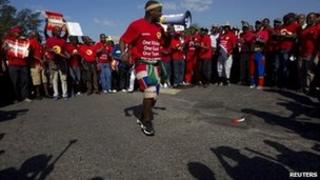 A South African union representing car workers has agreed a new pay deal, ending a month-long strike that has crippled the industry.
The National Union of Metalworkers of South Africa accepted a 10% pay rise this year and 8% in the next two years.
The strike in the car components industry caused severe disruption, especially to exports.
Last week BMW said it had stopped "all future plans" to expand in South Africa because of the industrial action.
Under the deal, pay at small-to-medium-sized car parts firms will only rise wages by 9% in the first year, followed by 8% in the subsequent two years.
"The strike was very hard for us," Irvin Jim, the general secretary of the National Union of Metalworkers of South Africa (NUMSA), told reporters.
The car components' strike followed industrial action by workers at car manufacturers themselves, which hit production at BMW, Ford, Nissan and General Motors and cost an estimated $2bn (£1.24bn) in lost output.
This year, the mining, construction and aviation sectors have also been hit by strikes, raising concerns about the impact on South Africa's economic growth.
Last week, Bodo Donauer, managing director at BMW South Africa, said the company had been unable to produce 11,000 cars while its workers were striking.
"But more important than these 11,000 cars is the sustainable damage which this [the strike] has made," Mr Donauer said.
On Sunday, Mr Jim said BMW's decision to stop future investment was "blackmail" which would be "rejected with the contempt it deserves".