Kenya's economy in the wake of the Westgate attack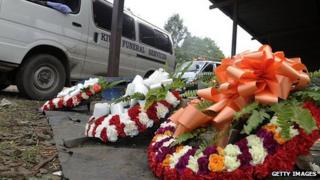 The Westgate shopping centre today stands defiantly in the middle of the rich leafy suburb of Westlands.
The world's focus was fixed on it for days after gunmen struck at midday on a Saturday, shooting at people - young and old - killing more than 60.
Driving down Peponi Road just beside the centre, all seems well from the outside except for some broken glass windows and bullet holes on the wall.
But inside, the scenes of chaos, death and looting are all too evident.
Shop owners are among the very few people who have been allowed into the shopping centre since the attack.
Martin Omondi owns a camera shop on the ground floor.
"Almost 100% of our cameras - all gone - worth more than a million shillings (US$11,000; £6,863)," he says after collecting what remained in his shop.
He cannot say who stole his merchandise, and is waiting for a government investigation.
But Serah Wambui, the owner of a salon located on the first floor, blames it all on the security forces.
"Our small cabinet that we used to display ornaments was looted," she says.
"They also opened our lockers to see whether we had money. They stole our cash box but our products are still there."
Kenya's defence ministry has asked people with evidence of looting to give them that information.
Business owners like Omondi and Serah are now pondering their next move.
'Mall culture'
Other shopping centres in Nairobi have also felt the impact of the attack on Westgate.
Hamed Ehsani manages the upmarket Village Market, which is next to the US embassy and the UN headquarters.
"The first couple of days we were down to 20% of the number of customers," he says.
"But in the last few days we're up to 60%, and we expect that to increase."
Ally Khan Satchu, a business analyst and Nairobi resident, says that people have been going to smaller shops, and shopping centres have been quieter.
"The whole mall culture is what has excited middle-class shoppers because it has consolidated middle-class demand and allowed retailers to come in, in a big way and service this demand," he says.
"The question is, is this going to change shopping habits of middle class Kenyans? I don't think it's going to be that long-lasting."
Other indicators also point to a resilience within Kenya's economy.
The stock market dropped on the two days after the attack, but it has subsequently rallied more than 2% and is not far off its 2013 high.
"What supported the stock market was international investors," says Mr Satchu.
"These guys thought this was an opportunity to get supply, so they used that as a liquidity opportunity to buy up a lot of stock."
But he says that Kenya's tourism sector, which accounts for 10% of the country's annual economy, is a soft target.
'Few cancellations'
Yet so far, says Mike Macharia, the chairman of the Association of Hotel Keepers and Caterers - there have not been significant cancellations in hotel bookings.
"We were pleasantly surprised to find the level of cancellations was very low - we had two conferences the Monday after the attack and of those two we had only 4% cancellations," he says.
At the Karen Blixen museum in Nairobi, tourists who spoke to the BBC were continuing with their holiday plans.
Frenchman Andre Mairie says he will not be changing his travel arrangements following the attack.
"We are used to this kind of things. We had the one at Saint Michel station, we had the one at rue de Rennes, and so what?" he states, referring to previous explosions in his home country, France.
"People were telling me: 'Why are you going to Kenya? It must be dangerous.'
"I said: 'Look, I'm still taking my subway at Saint Michel, I'm still walking at rue de Rennes.'"
Kay Headfield and her husband were already en route to Nairobi from New Zealand when the attack at Westgate took place.
"It's been arranged through Child Fund and the staff there have been very good in advising us and keeping us informed so we carried on," says Mrs Headfield.
Continued growth
Mike Macharia attributes the positive reaction from tourists to the messages of support from countries like the United Kingdom - which accounts for some 16% of all visitors to Kenya.
"The messages that came out of the key source markets were very positive, particularly from the UK."
The International Monetary Fund said in the aftermath of the attack that Kenya could withstand a "one-off" attack by Islamist militants.
With the second half of the year normally the peak season for tourism, analysts are predicting that the economy is on track for growth of between 4.5% to as much as 6% this year.
But analysts warn that if there were to be another Westgate-style attack, then those growth prospects could change.
Africa Business Report is broadcast on BBC World News on Fridays at 18:40, Saturdays at 10:10 and 20:10, and Sundays at 00:10 (all times GMT).