Bank card fraud 'highest since 2009'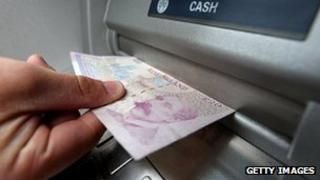 Card fraud hit its highest half-yearly level since 2009 as fraudsters tricked consumers into handing over details.
Some £216m on credit and debit cards was lost to fraudsters in the first six months of the year, a 17% increase on the same period in 2012.
Financial Fraud Action, which represents the financial services industry, said this was still well below the peak of £304m in 2008.
Some con-artists have posed as police officers to gather vital information.
Others have posed as bank fraud investigators to deceive people into handing over their cards or four-digit Pin.
Shoulder surfing
The figures show a 23% rise in the level of fraud on telephone, online and mail order shopping, as the trend of buying over the internet continues.
Meanwhile, ID theft has risen by 24% and counterfeiting was up 15% when people's cards were cloned or skimmed.
In June, Financial Fraud Action warned about "shoulder surfing", when thieves look over a person's shoulder while they key in their number at cash machines and then distract them as the card comes out of the ATM, enabling the thief to snatch it.
"The move towards these low-tech crimes of deception highlights the importance of consumers knowing how they can protect themselves," said Detective Chief Inspector Dave Carter, head of the Dedicated Cheque and Plastic Crime Unit.
"Whether victims are targeted on the phone or online, we know that these professional conmen are highly persuasive."
He urged people to keep their Pin safe, shield it when using a cash machine, and check that a website is secure - featuring a padlock icon - when shopping online.
He stressed that banks and police officers would never call or email to ask for a Pin number, or full login details.