Sotheby's counters Loeb with 'poison pill' defence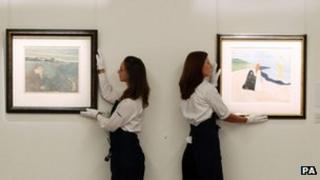 The auction house Sotheby's has put in place a defence to ward off takeovers, just days after an attack on its leadership by an activist investor.
It gives existing shareholders rights to double their shareholding should any investor's stake go above 10%.
The "poison pill" would make it much more expensive for Mr Loeb to build a stake of more than 10%.
This week investor Daniel Loeb, who has a 9.3% stake, said Sotheby's was a painting desperately needing restoring.
"Poison pill" defences are so-called because they should make a target company unpalatable to predators.
Luxury
Through his hedge fund, Third Point, Mr Loeb targets what he considers to be underperforming companies.
Previously his fund has taken significant stakes in Sony and Yahoo.
In a letter sent earlier this week he said Sotheby's boss William Ruprecht enjoyed the perks of a "long-gone era of imperial CEOs", that included club memberships.
He has accused Sotheby's management of wasting shareholders' money, singling out what he says was an "extravagant" lunch and dinner at a famous restaurant in New York, where they "feasted on organic delicacies and imbibed vintage wines at a cost to shareholders of multiple hundreds of thousands of dollars.
"We acknowledge that Sotheby's is a luxury brand, but there appears to be some confusion - this does not entitle senior management to live a life of luxury at the expense of shareholders."
Third Point has been a strong buyer of Sotheby's shares, building up its stake from 5.7% in August to its current holding of more than 9%.