Amplats production hit by striking miners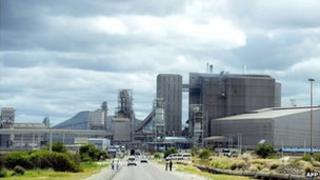 Anglo American Platinum (Amplats), the world's biggest platinum producer, said it had lost an average of 3,100 ounces of production a day since workers went on strike a week ago.
Staff at two mines in South Africa are striking over plans to cut 3,300 jobs.
Amplats said the cuts are necessary for its long-term competitiveness.
It had originally planned to lose up to 14,000 jobs, but had to pare that back after pressure from the government and trade unions.
Last year, the company, which is 80% owned by Anglo American, reported a 6.33bn-rand ($710m; £452m) operating loss, partly due to output at its Rustenburg mine, in north-west of Johannesburg, being disrupted by violent strikes.
The firm would not confirm what proportion of total production is being lost at the two mines.
But based on current platinum trading prices of $1,380 an ounce, the lost output is equivalent to $4.3m a day.
Record low
The company said less than 20% of workers had turned up for work at its Rustenburg and North of the Pilanesburg mining operations.
The company, which mines about 40% of the world's platinum, said it would continue to engage with the union "to try and return the business safely to optimal operation levels".
When the strike started Chris Griffith, Amplats' chief executive, said the company was under tremendous economic pressure.
"Strikes and work stoppages will result in further losses that will hamper plans for future sustainability and further threaten the future of our 45,000 employees," he said.
Last August, Rustenburg was the scene of violent wildcat strikes, during which police shot dead 34 miners.
The bloodshed at the Marikana mine was the most deadly police action since South Africa became a democracy in 1994 and sparked national outrage.