Child benefit deadline day looms, warns HMRC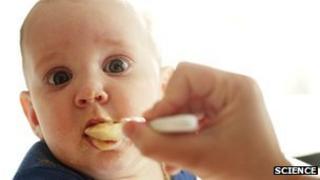 A tax boss has said nearly 200,000 parents must "get off their backsides" and register with the UK tax authority amid changes to child benefit.
Saturday marks the first deadline for better-off families to sign up with HM Revenue and Customs (HMRC).
They will need to register for self-assessment so the HMRC can claw some or all of the benefit back.
Families where one parent has a taxable income of more than £50,000 are affected.
They will lose some of the benefit, following the introduction of the new rules in January 2013, while child benefit has been withdrawn entirely if one parent earns more than £60,000.
Eligible families receive £20.30 per week in child benefit for their first child and £13.40 a week for any further children.
The new rules meant that this payment is reduced gradually for families where one parent is earning between £50,000 and £60,000.
HMRC has written to people who it believes have a taxable income of more than £50,000 and so need to take some action. Taxable income is earnings from employment, as well as other income such as from savings and shares, but may not include some pension contributions.
Lin Homer, HMRC chief executive, told BBC Radio 5 Live: "We think there is about 200,000 people who need to get off their backsides and do something."
'Leaving it late'
Some 350,000 people have opted out of receiving child benefit altogether, generally because they earn and will continue to earn a taxable income of more than £60,000 and therefore would not be entitled to the payment.
HMRC says another 425,000 people were already in self-assessment, some 140,000 people have registered for self-assessment, and another 185,000 people have still to register.
In theory, the deadline to register and avoid a possible penalty is 5 October. The penalty would be between 10% and 100% of the child benefit paid.
However, HMRC says it is unlikely that anyone who registers and pays the tax by 31 January would be penalised.
"HMRC is committed to helping people pay the right amount of tax and urges parents who have been affected by the changes to child benefit to register for self-assessment," said Ms Homer.
"We know that lots of people leave it until the last minute."
Anita Monteith, of the Institute of Chartered Accountants, said: "This adds considerable complication to the tax system for ordinary people, particularly for those brought into the self-assessment system for the first time.
"I would urge those affected to register for self-assessment as soon as they can."