India cabinet approves Etihad's Jet Airways stake deal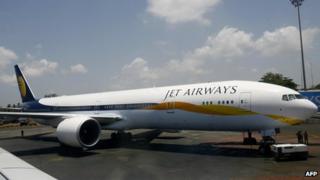 The Indian government has approved Etihad Airways' plan to buy a 24% stake in Jet Airways for $379m (£248m).
The deal was first announced in April, but proved controversial due to concerns over who would control the day-to-day operations of the airline.
It is the first foreign investment in India's airline sector since ownership restrictions were eased last year.
Foreign firms are now allowed to own up to 49% of local airlines, which has spurred a spate of deal-making.
In recent months, Singapore Airlines and AirAsia have also announced plans to enter India's airline market.
They have both announced joint ventures with Indian conglomerate Tata Group.
Boost for Jet
India has seen the rise of a more affluent middle class in recent years.
As income levels rise for many, demand for air travel is expected to grow even more in coming years.
The government has forecast that domestic air travel will nearly triple this decade as airlines connect its smaller cities.
However, despite its potential, India's aviation industry has suffered major losses, not least because of high fuel costs and intense price competition.
Only one of India's six main carriers - IndiGo - made a profit last year.
Jet Airways, which flies on both domestic and international routes, has been struggling in recent times, and many analysts have said that the Etihad deal may help turn around its fortunes.