The companies bringing inanimate objects to life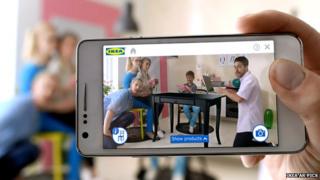 It seems unlikely that Dr Frankenstein's monster-making antics would shock people today in quite the same way they did when his story was published in 1818.
Not because we've seen it all before, mind you.
Rather, in a tech-savvy world, people increasingly expect connectivity and interaction as a matter of course.
So bringing the monster to life is the least you might expect.
If it sat up and could instantly tell you whether your train was delayed - now that might be considered impressive.
Almost 200 years after the book came out, many businesses face exactly the same dilemma as the doctor in Mary Shelley's literary masterpiece.
What happens if you're stuck with an inanimate object, but want customers to be able to interact with it?
Just how can firms achieve the digital equivalent of a lightning strike and a maniacal screech of "It's alive"?
Experiments
Recent users of the Expressen app, of one of Sweden's leading national daily newspapers, may well have been surprised when an advert encouraged them to talk to it.
They would have surely been even more surprised when the advert engaged them in a full-on conversation.
According to the advert's designers, Nuance Communications, this is the first commercial example of an interactive voice advertisement.
Nuance is widely believed to be behind Apple's Siri voice recognition technology (it isn't allowed to admit it though), but does confess to making Samsung's S Voice equivalent.
"An ad on a mobile device is a very inanimate thing - people don't take much notice," says John West, principle solutions architect at Nuance.
"If you look at adverts right now, be they mobile, print or broadcast on the web or TV, the individual stares at it, listens and possibly absorbs some of it.
"The experiments we've done so far show that if you interact with the ad through speech the recall is far stronger," he says.
"If you enter into a dialogue with something you become more engaged and you offer much more information because there's no clicking through or filling out forms."
Secrecy
This opens all sorts of avenues to businesses that are always talking about engaging with the customer, but generally seem to be making it more difficult than ever to actually talk to them.
Of course everything rides on the voice recognition actually understanding you and not, to your immense frustration, asking you to repeat yourself.
Since Nuance is contractually obliged to keep the details of the advert secret and this author speaks no Swedish, this is rather difficult to test.
Another of these voice adverts is being launched in the US this month, but its details too are being kept closely under wraps.
"It will involve showing you a movie based around the product," explains Mr West.
"It will tell a story, and ask you to make decisions that will drive the story.
He admits he was originally dubious whether the company could keep people engaged in what is basically a five-minute advert.
"But actually it shows off the product much better than an advert ever could because you look at the elements of the product in the order you want."
Coming to life
As things stand voice ads are limited to mobile platforms - but what if you want a physical object, like a bottle or box to perform a similar feat of animation?
Companies have tried to pull this off recently using augmented reality (AR) apps such as Blippar.
For example, Heinz made its logo "Blippar-enabled", meaning tomato ketchup fans could scan the logo on the bottle in order to view a simple recipe book.
Pepsi drinkers who looked at their bottles through the app saw the label on their bottle come alive, whereupon a magician would do a magic trick.
But bringing brands to life in this way has not got everyone convinced.
"The flash-and-dazzle approach is not sustainable," maintains Ryan Matzner, from New York-based mobile development company Fueled.
"Big brands like Heinz tend to ignore the fact that consumers are not so easily distracted these days," he says.
"How many people are actually willing to sit and wait while an app downloads so that they can get a recipe off a Ketchup bottle?"
Blippar, with over three million app downloads and a total of 18.5 million interactions, would answer "lots".
Alan Parker, managing director at digital advertising consultancy Lowe Epic, cites the Ikea AR catalogue as an example of successfully implementing the technology.
The Swedish flat-pack behemoth's 2014 catalogue will allow shoppers to see what its products would look like in their homes through mobile devices.
"That's genuinely of use to the consumer and does fit in with their behavioural pattern - they really do want to see what that sofa would look like in their living room," says Mr Parker.
Flaming torches
However, just seeing things is only the start.
IBM predicts that in five years we will have the ability to "touch" a product through our mobile devices.
Its scientists are working on using special vibration patterns to simulate touch, such as the texture and weave of a fabric.
But what if an inanimate object interacts with you and you don't know it?
In June, Renew London equipped recycling bins in the UK's capital with technology to track people's smartphones as they passed by.
Renew fitted the devices into 12 "pods", which featured LCD advertising screens, to collect footfall data by logging nearby phones.
The City of London Corporation later demanded the technology be turned off, though Renew chief executive Kaveh Memari said the bins had only recorded "extremely limited, encrypted, aggregated and anonymised data".
Nonetheless, on occasions like this, it feels a bit like time to pick up a pitchfork and flaming torch, hook up with a restless mob and send the monster back from whence it came.
Sometimes, perhaps, it's better not to play digital god.