Halt on BP payments to 'phony' oil-spill victims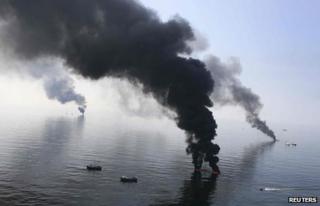 The prospect has receded of BP being financially crippled by an escalation of compensation payments to businesses claiming to be victims of the 2010 Deepwater Horizon oil spill in the Gulf of Mexico.
The wording of the agreement it signed on paying compensation had meant, according to BP, that a court-appointed claims administrator was paying too much to some victims and also making payments to businesses that hadn't suffered genuine losses.
This had meant that the costs of the compensation had been rising above BP's original estimate of $7.8bn to perhaps double that.
However last night the US Court of Appeals for the Fifth Circuit approved an injunction against payments being made to businesses that have not suffered "actual injury traceable to loss".
It is not yet clear how much last night's ruling will in the end save BP, because the judges did not throw out the controversial method used by the claims administrator for calculating compensation.
But having had no victories in previous court attempts to slow up the pace of compensation disbursements, BP is inevitably delighted that hundreds of millions of dollars of payments it regards as unmerited will now be halted.
The case will continue in Louisiana's district court.
Such were BP's fears about the potential damage to its business from the scale of compensation payments that it has been sounding out the British government for help in lobbying the US government and authorities.