Payday lenders face tougher rules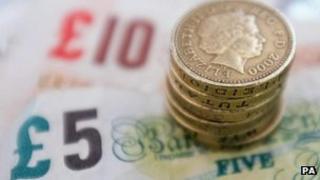 The UK's payday lenders have been warned that tougher regulation is on its way, to protect consumers.
The Financial Conduct Authority (FCA) has proposed that all borrowers should have an "affordability" check before being given a loan.
Among other new rules, the FCA wants to put risk warnings on adverts and marketing material.
The payday industry gave the plans a guarded welcome, saying irresponsible lenders would struggle to comply.
Martin Wheatley, the FCA's chief executive, said: "Today I'm putting payday lenders on notice: tougher regulation is coming and I expect them all to make changes so that consumers get a fair outcome. The clock is ticking."
The proposals mean that anyone taking out a loan would need to prove that they could afford to repay it.
In a separate government survey, one in five customers said they were not even asked about their finances when they applied for a payday loan.
Crackdown
Among other proposals, the FCA suggested that:
Lenders will not be able to extend, or "roll over", loans more than twice
The number of attempts a payday lender can take money out of a borrower's account using a Continuous Payment Authority (CPA) should be limited to two
Anyone extending a loan should be told about free debt advice
The FCA could order lenders to change misleading adverts, or drop products that are not in the best interests of consumers.
The FCA said it did not want to stop people using payday lenders, as they might turn to illegal loan sharks instead.
"We believe that payday lending has a place; many people make use of these loans and pay off their debt without a hitch, so we don't want to stop that happening," said Mr Wheatley.
Business Minister Jo Swinson said the new rules would "call time on unscrupulous payday lenders". She said the industry had "failed to self-regulate effectively".
"We warned the industry months ago that if it didn't get its house in order we would step in."
The FCA said the risk warnings to be attached to adverts would be similar to those used by mortgage lenders, which remind borrowers that their home may be repossessed if they fall behind with payments.
Reimbursements?
After the FCA takes over as the new regulator for consumer credit, in April 2014, it will also consider whether to put a cap, or limit, on the interest rates that lenders can charge.
The government has decided against such a cap for the moment, but does not want to rule it out in the future.
Previously the FCA has also said it will consider making rogue payday lenders reimburse customers where necessary.
It has also said it might close firms down overnight if it needs to.
The current regulator, the Office of Fair Trading (OFT), wrote to 50 payday lenders earlier this year to see if they were suitable to continue in business.
Nineteen lenders withdrew from the market as a result.
A further six companies have stopped offering payday loans since, or have had their licences suspended by the OFT.
But the FCA said that, despite the OFT campaign, the industry was still failing to respond.
Raising standards
Despite 25 companies leaving the payday loans market, it is thought there are still more than 200 firms offering short-term loans within a matter of minutes.
Many belong to the Consumer Finance Association (CFA).
Under the CFA's code of conduct, roll-overs are permitted three times only.
If borrowers default on their repayments for longer than 60 days, the amount they owe is frozen.
"As major lenders in the mainstream market, CFA members have always supported well-designed, well-implemented regulation in order to protect consumers and drive up standards," said Russell Hamblin-Boone, the CFA's chief executive.
He added that the FCA's proposals were "an opportunity to set a bar over which irresponsible lenders will struggle to jump".
The public consultation on the FCA's proposals will be open until 3 December.