Spain's jobless claims rise in September, government data shows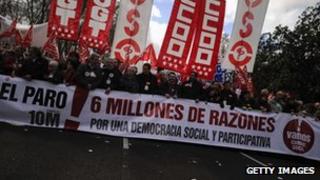 The number of registered jobless in Spain has risen for the first time in seven months as the tourist sector laid off workers after the summer season.
Unemployment in September rose by 0.5%, or 25,572, to 4.7 million, with the service sector shedding 52,000 jobs, according to Labour Ministry data.
However, the jobless level in industry and construction continued to fall.
Prime Minister Mariano Rajoy hailed the figures as the "the best jobless data for September in many years".
Spain has been in recession for most of the past four years, but the government has forecast that the economy will grow this year.
Jose Luis Martinez, economist at Citi in Madrid, said the "figures are better than I expected. Even so, this continues to be case of consolidation rather than a sustainable improvement" in the labour market
Many economists will be looking to the next quarterly survey from Spain's National Statistics Institute (NSI) as a better guide to what is happening labour market.
In July, NSI data, considered a more comprehensive survey of the employment market, showed that unemployment in the second quarter fell for the first time in two years.
The jobless rate stood at 26.3% in the second quarter, down from a record 27.2% in the first quarter. The figure was boosted by the start of the tourist season. Tourism accounts for about 10% of Spanish GDP.