McDonald's faces backlash in Tecoma, Australia
By Phil Mercer
BBC News, Sydney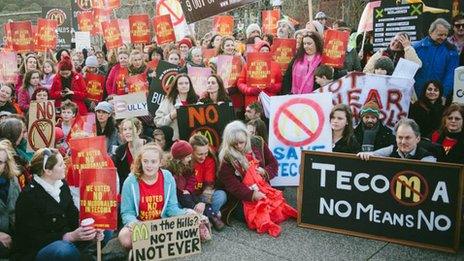 A long-running feud has pitted protesters from a small town of 2,000 people in the shadows of Australia's temperate rainforest against one of the world's most recognisable brands.
Tranquil Tecoma, 35km (20 miles) east of central Melbourne, has become a battleground between McDonald's and "community" protesters over the construction of a 24-hour drive-through restaurant.
Opponents say the restaurant would be too close to a nursery and primary school, would damage other businesses and disrupt the fabric of a leafy community known for its artists and wildlife.
The plan was initially rejected by the local council, but the fast-food giant won an appeal at a state planning tribunal, and work on the site is under way.
It's been a two-and-a-half-year fight spanning two continents.
Last month, campaigners delivered a petition containing 97,000 signatures to the company's global headquarters in Chicago.
Looking for a 'tree change'
"We knocked on the door of every house in Tecoma and we discovered that nine out of 10 people didn't want this," says Garry Muratore, a spokesman for No McDonald's in the Dandenong Ranges, who denies the group is on an anti-corporate crusade.
"They have the legal right, but they don't have the moral right. McDonald's have a right to run a business as long as it is in an appropriate place," he tells the BBC News website.
"But people who moved up here for a 'tree change' [to escape the city and live in the countryside] are worried about litter and the fact that this would be the closest McDonald's to a national park anywhere in Australia. Some people are worried about the traffic."
So, too, is the Yarra Ranges Shire Council, which unanimously turned down the original planning request from McDonald's on 15 different grounds back in October 2011.
"From a council point of view it was about the building and the application. It's never been about the brand. It's more about the intensity of [commercial] use on that site in that village. It's not about snobbery at all," says councillor Samantha Dunn, adding there had been "enormous resistance" to the plan in Tecoma.
Despite such fierce opposition, McDonald's says it will press ahead.
The company tells BBC News: "We have followed due process every step of the way to build a family restaurant on a highway that houses a number of food and service outlets. The area is appropriately zoned, we have an approved planning permit and we are moving forward.
"We know that there is much support in the community and our obligation is to ensure that those who want a McDonald's in the community have that option."
But in the foothills of Victoria's Dandenong Ranges, protesters are promising a daily blockade of the restaurant, although a recent court order bans them from entering the site.
McDonald's has dropped a claim for damages against a group of demonstrators, while a judge has sent both sides to mediation to resolve a dispute over the company's legal costs.
Business advocates believe McDonald's is being unfairly victimised by activists.
"Business operators are increasingly being confronted by so-called community protests, which are highly organised and difficult to combat," says Richard Clancy, from the Victorian Employers' Chamber of Commerce and Industry.
"In response, they are forced to go to court at great expense just so they can engage in their lawful business activity."
But academics note the great Tecoma stand-off could be a turning point for grassroots campaigns against corporate might in Australia.
Marketing expert Dean Wilkie, from the Australian School of Business at the University of New South Wales, says community groups can now wield great influence over public opinion.
"Social media is giving consumers back the power, and those companies that don't act ethically or don't listen to what consumers want will suffer the consequences," Mr Wilkie told the BBC.
"McDonald's stresses this idea of helping the local community as one of its core values, but the fact that they are going against the people of Tecoma in such a manner is to me inconsistent with what they say their cores values are. It creates a lack of credibility."
In Tecoma, regular community meetings are held to determine the demonstrators' next moves, including a plan to distribute leaflets in Korean, Japanese and Mandarin to hotels, urging tourists to boycott McDonald's in their village.
"It will be a peaceful, non-violent protest that will go on as long as they are there," says Garry Muratore.
Related Internet Links
The BBC is not responsible for the content of external sites.