Albemarle & Bond's shares hit as fundraising plan fails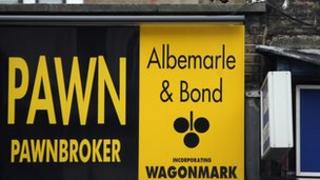 Shares in Albemarle & Bond, one of the UK's biggest pawnbrokers, have halved after it failed to get support for plans to raise £35m.
On Monday, it had warned of "significant uncertainty" over its profitability, which could force it to breach debt agreements.
But attempts to persuade its biggest shareholder EZCORP International to underwrite a share sale failed.
The firm is now in discussions with its banks about lending arrangements.
The news that the planned share sale was not going ahead pushed its shares down nearly 50%, and this follows a 40% fall in the share price on Monday.
Weak gold prices have hit Albermarle's core businesses of pawnbroking and gold buying.
The value of gold fell more than 30% in the nine months to June due to fears of an early end to the US Federal Reserve's stimulus programme.
Albemarle said it had agreed a delay to one debt deadline and was "now focussing its efforts on constructive discussions with the banks to explore all possible options to remedy potential covenant breaches later in the current financial year".
The firm has been taking steps to improve profit margins and recently closed 33 pop-up gold buying stores that were no longer profitable.