Carl Icahn pushes for $150bn Apple share buyback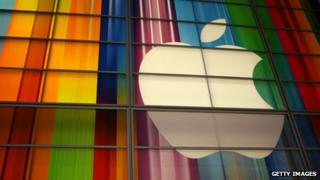 Billionaire investor Carl Icahn has made another push for Apple to buy back its stock, saying the move will help boost the value of Apple's shares.
Mr Icahn, who has built up a big stake in Apple, urged the firm to embark on a $150bn (£92.5bn) share buyback.
His suggestion comes as Apple's shares have been hurt by concerns over growth - down 30% since hitting a record of $702 in September 2012.
Apple has said it will return $100bn to shareholders by the end of 2015.
The firm said in April this year that it would do so by raising dividends and buying back shares. However, at a dinner with chief executive Tim Cook, Mr Icahn urged the company to undertake a much bigger buyback.
"Had a cordial dinner with Tim last night. We pushed hard for a 150 billion buyback. We decided to continue dialogue in about three weeks," Mr Icahn tweeted.
Apple's shares rose 2.4% on Tuesday after Mr Icahn's remarks.
Earlier this year, the Reuters news agency quoted Mr Icahn as saying that Apple had the ability to undertake a $150bn buyback "by borrowing funds at 3%".
"If Apple does this now and earnings increase at only 10%, the stock - even keeping the same multiple currently - should trade at $700 a share," he was quoted as saying at the time.
Apple has a cash pile of nearly $145bn, but a large amount of that is held offshore.