Bankers may be jailed under proposed new UK law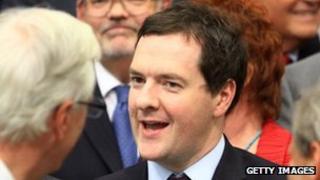 Senior bankers could face criminal charges for "reckless" misconduct leading to the fall of a bank, under new UK government plans.
Chancellor George Osborne set out the charges in 86 amendments to the Treasury's Banking Reform Bill.
The changes are due to come into effect in 2014.
They include laws separating the High Street banks from their trading arms in the City in order to protect taxpayers, said the government.
'Corporate manslaughter'
Mr Osborne's additions to the bill are partly in response to the Libor rigging scandal, where traders at some banks sought to manipulate interest rates in their favour.
Major reforms will ensure banks work for the economy and consumers, while consumers will be empowered by greater competition within the banking sector, said the Treasury.
Regarding the criminal sanctions, a Treasury spokesman said: "The offence will only apply to behaviour which falls far below the standard that could reasonably be expected of a person in that position - this is similar to the test for corporate manslaughter."
They added: "Today's amendments mark the final part of the government's plan for the biggest ever overhaul of the UK banking system."
They also highlighted how the Bank of England was already "back at the centre of supervision" and said the bill would "drive up standards and increase financial stability".
New powers for the Bank of England give it the ability to identify and address systemic risks as they emerge, ensuring banks that will not bring down the economy, the Treasury's briefing note said.
Amendments to the bill also include making the UK's financial regulators "sufficiently focused" on improving competition and giving them powers to tackle anti-competitive behaviours.
This summer, the Labour party had argued that the originally proposed Banking Reform Bill was not strong enough, and tabled a series of amendments - including calling for the creation of a new criminal offence of reckless misconduct in banking.