Swiss National Bank investigates missing notes worth 1.8m francs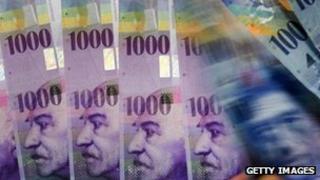 The theft of 1,000 unfinished Swiss banknotes, with a face value of 1.8m francs (£1.2m), is being investigated by Swiss authorities.
The investigation was prompted by some invalid notes appearing in London in October 2012, and which are still in circulation.
The Swiss National Bank (SNB) announced the cash was taken from its printing plant, Orell Füssli.
It said the incident was the first of its kind.
Big surprise
The banknotes appeared at a London-based bureau de change and were discovered by the Serious Organised Crime Agency.
On further investigation by the Swiss printing plant, the notes turned out to have been stolen unfinished from their production line.
A spokesperson for the SNB said the theft came as a big surprise.
"It is very uncommon for banknotes to be stolen during the production process and then appear in public," he said.
The stolen 1.8m francs were "really not" a negligible amount, the spokesperson said, but added the SNB would continue to work with its Zurich-based printing press.
It is difficult to identify the invalid banknotes at first, the SNB said.
They are either missing a serial number, or have had it added at a later date, or are without a perforated number.
People who think they might have a suspect note will be reimbursed its face value by Orell Füssli, liable for any customer losses, via the SNB.
The banknote printer said it had "painstakingly reviewed its security measures in detail".
It also said it had arranged an official inspection by an independent agency, and tightened its security precautions.