UK manufacturing continues to grow in September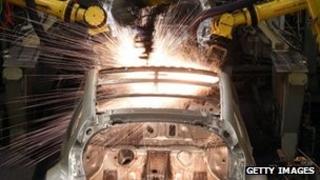 UK manufacturing grew for the sixth consecutive month in September, a survey has indicated, and recorded its strongest quarterly performance for two and a half years.
The Markit/CIPS Purchasing Managers' Index slipped to 56.7 last month from August's 57.1, but was still above the 50-mark indicating expansion.
Growth in output and new orders remained close to August's 19-year high.
But export business growth was weak.
"UK manufacturing continues to boom. These numbers are encouraging in respect to the rebalancing of the economy, with goods production likely to provide a major stimulus to economic growth in the third quarter," said Rob Dobson, senior economist at Markit.
The only weak point in the survey was the slower rise in export orders, which Mr Dobson said was disappointing.
"We would expect to be seeing far stronger export gains than companies are currently reporting, especially with the eurozone showing signs of finally pulling out of recession," Mr Dobson said.
Both employment and prices rose at their fastest pace in two years, suggesting the UK's economic recovery is gathering steam.
Lee Hopley, chief economist at EEF, the manufacturers' organisation, said the figures marked another "solid month" for manufacturing. "Output, orders and employment (are) all up, paving the way for a decent quarter of growth across the sector."
Manufacturing accounts for 10% of the UK economy.
The sector grew 0.9% in the three months to June, helping the economy as a whole to grow 0.7%. Many economists are forecasting a faster pace of economic growth in the third quarter.
"Continued strength in the manufacturing sector will add to the belief that the UK's economy is becoming more 'broad-based', as we progress through the year," said Jeremy Cook, chief economist at currency broker World First.