Wolseley profits jump on US growth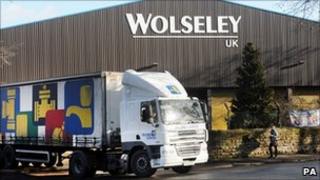 Building and heating materials group Wolseley has seen profits more than double, driven by its US division.
Full-year pre-tax profits at the company, which owns Plumb Center and Ferguson in the US, jumped from £198m to £473m.
Wolseley said it was seeing early signs of recovery in UK but continued weakness elsewhere in Europe.
The firm increased its dividend by 10%, and said it planned a £300m special dividend in December.
Revenue from ongoing businesses in the year to the end of July was up 4.1% to £12.9bn.
Chief executive Ian Meakins said revenue growth rates had been maintained going into the new financial year.
"Our markets in the US continue to grow steadily and the UK market growth is encouraging," he said.
"However, economic conditions in Continental Europe are very challenging and we expect them to remain so for the foreseeable future."
The firm said demand in its repairs, maintenance and improvement markets remained stable in most countries.
However, residential new construction markets were weak in all regions outside the US, it said.
The company plans to play a total dividend for the year of 66p per share, a year-on-year increase of 10%.