Wells Fargo agrees $869m settlement with Freddie Mac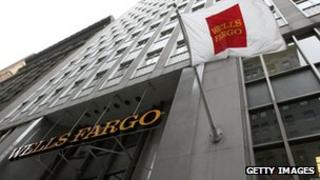 Wells Fargo, the largest US mortgage lender, has agreed a settlement with Freddie Mac to resolve claims over faulty loans it sold to the firm.
It will pay Freddie Mac $869m (£534m) to settle claims on all loans sold before 1 January 2009.
This comes just days after Citigroup agreed a $395m accord with Freddie Mac.
US agencies Freddie Mac and Fannie Mae, bailed out by the government during the financial crisis, have claimed that banks sold them toxic debts.
They have argued that, as a result, banks that sold those loans should be responsible for losses on them.
Boom to bust
The US economy, the world's largest, witnessed a big boom in its housing market in the lead up to the 2007-08 financial crisis.
As house prices continued to rise, many banks looked to cash in on the boom.
They started to group together home loans and sold them as investment products.
However, a collapse in the housing market saw the value of those investments plummet as the underlying mortgage holders were unable to repay their debts.
That hurt many investors globally, including Freddie Mac and Fannie Mae, who lost more than $30bn partly because of their investments in the subprime mortgages.
The two had to be bailed out by the US government.
Since then, banks have been under pressure to resolve claims on potentially faulty mortgages sold to the two firms.
Earlier this year, Citigroup announced a deal to pay Fannie Mae $968m for loans sold to it between 2000 and 2012.
Bank of America has also agreed to pay Fannie Mae $11.6bn to settle claims relating to residential home loans.