Energy firm SSE to raise dividend despite retail loss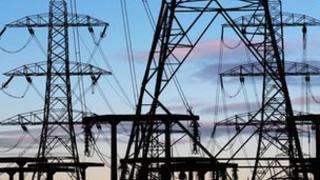 Energy firm SSE says it expects to report a loss at its retail arm in the first half of its financial year.
SSE blamed higher wholesale gas prices, higher costs and lower energy consumption for the expected loss.
This compares with an operating profit at its retail arm of £75.7m in the same period last year and a £101.4m loss the year before.
But SSE added it was on course to raise payouts to shareholders by more than inflation.
The announcement comes days after Labour announced plans to freeze gas and electricity bills for 20 months if it wins the 2015 election.
Energy firms said this could lead to blackouts.
Progress
Perth-based SSE is the second biggest energy supplier in the UK with 9.5 million customer accounts.
Despite the expected loss at its retail arm, SSE said its wholesale and networks divisions were expected to be profitable in the six months to the end of September 2013.
This meant the firm was on course to achieve an increase of more than RPI inflation in the dividend it paid to shareholders for the 2013-14 financial year, it said.
Gregor Alexander, SSE's finance director, said the business had made solid progress in recent months, despite challenging energy market conditions.
"Despite the intensifying political debate, we will maintain our operational and financial discipline, to enable us to deliver an above-inflation increase in the dividend for this financial year and beyond," said.
Political debate
SSE's statement comes at a time of heightened political tension over electricity and gas bills.
Last week, Labour leader Ed Miliband said he would "take action" against energy companies if they defied a Labour government by raising prices ahead of his promised freeze.
The pledge has been welcomed by consumer groups angry at price rises over recent years, but the "big six" suppliers warned it could have serious consequences.
Energy Secretary Ed Davey said it risked "the lights going out".
The chairman of British Gas owner Centrica, Sir Roger Carr, told the BBC that Labour's plan could potentially cause "economic ruin" for energy firms.