Pawnbroker Albemarle & Bond plans £35m fundraising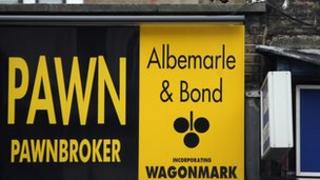 Shares in Albemarle & Bond, one of the UK's biggest pawnbrokers, plunged after the firm announced plans raise £35m to avoid breaching debt agreements.
The company said it aimed to raise funds at 50p per share after warning of "significant uncertainty" over its profitability in the coming year.
Albemarle shares closed down 40.4%, or 50.5p, at 74p.
The firm said weak gold prices had hit its core businesses of pawnbroking and gold buying.
Albemarle has been affected by a drop in the value of gold, which fell more than 30% in the nine months to June due to fears of an early end to the US Federal Reserve's stimulus programme.
However, the precious metal rallied nearly 9% between July and September.
Taking action
"Whilst the company's profitability before exceptional items is within the range of market estimates for its financial year just ended (to 30 June 2013), the ongoing weakness in the gold price creates significant uncertainty over the company's prospects for the current financial year to 30 June 2014 and for the company's profitability," it said in a statement.
The company is currently in discussions with lenders over the covenants applying to its banking facilities, which total £65m.
"Whilst the company's current level of net debt is well within these facilities at circa £51m, the earnings based covenants are at high risk of being breached at the testing dates due in the current financial year," it said.
The firm said it had taken action to improve profit margins and recently closed 33 pop-up gold buying stores that were no longer profitable.
It is now in discussions with its largest shareholder, EZCORP International, to underwrite an issue of new shares, which it said would recapitalise the balance sheet and resolve potential covenant breaches in the current financial year.
But it said there was no certainty it could strike a deal with EZCORP and its lenders for a rights issue, which would be open to all shareholders.
Pawnbrokers such as Albemarle & Bond have been among the beneficiaries of the financial crisis, with more people using their services as mainstream banks offered fewer loans.