Fewer opting out of pension schemes than expected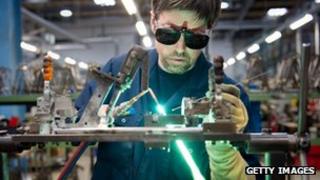 Fewer people than expected are choosing to opt out of new workplace pension schemes, a survey has indicated.
The National Employment Savings Trust (Nest) found that 9% of employees chose to leave pension schemes after being automatically enrolled.
Previously, the government thought that a third might decide to leave.
According to the Department of Work and Pensions (DWP), 1.6 million workers have joined workplace pensions in the first year of so-called auto-enrolment.
Under the plan, launched in October 2012, employees are automatically put into a pension scheme unless they choose to opt out.
Karen Kelly, a hotel supervisor from Liverpool, is among those who have recently joined, having decided against an opt-out.
"It was important to do it now while I'm young," the 28-year-old told the BBC. "The longer you pay in, the more you get."
Ms Kelly was enrolled into a pension scheme by her employer, the hotel chain Travelodge.
Savings
The Nest survey found that a third of those opting out of auto-enrolment did so because they could not afford it.
Fifteen percent of those deciding not to join said they were saving through other means, while 14% said they were too close to retirement.
Most of those deciding to stay in thought it was time to start saving for retirement. The news was welcomed by Pensions Minister Steve Webb.
"Over the past year we have instigated a quiet revolution that has heralded the biggest change to pensions in a century," he said.
The first workers to be automatically signed up to company pensions were from large firms, such as Tesco.
Now smaller companies, employing a few thousand people, are joining the scheme as well.
Under the workplace pension scheme, employers make a contribution to workers' savings.
When they retire, employees then use the pension pot to buy an annuity, or income for life.
The government hopes that eventually 6-9 million people may be persuaded to join such schemes.