Blackberry reports $965m second quarter loss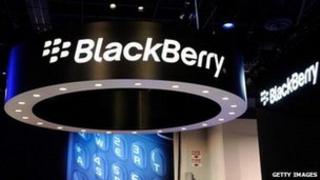 Blackberry has reported a second quarter net loss of $965m (£600m) following a slump in sales.
The company warned investors last week that it would report a loss of up to a billion dollars, due to poor sales of its new smartphones.
It also announced 4,500 job cuts in a bid to stem those losses.
Earlier this week Blackberry agreed to be bought by a consortium led by Fairfax Financial, its biggest shareholder, for $4.7bn (£3bn).
Blackberry said it would continue to explore other options while negotiations with Fairfax continued.
The company's financial problems came to a head this year following disappointing sales of its new Z10 smartphone.
Sales were so poor that Blackberry had to write off $934m in the second quarter to account for the weakness.
Disappointment
Released in January - after many delays - the phone has failed to enthuse consumers.
The firm reported total sales of $1.6bn compared with $3.1bn in the same quarter of 2012, a near 50% fall.
"We are very disappointed with our operational and financial results this quarter and have announced a series of major changes to address the competitive hardware environment and our cost structure," said Thorsten Heins, Blackberry's chief executive.
In the second quarter, Blackberry said it sold 3.7 million Blackberry smartphones. That compares with 7.4 million shipments in the same period of 2012.
To put that into perspective, Apple sold nine million of its new iPhone 5S and 5C models on the opening weekend of sales.
Decay
In a research note, Colin Gillis from the brokers BGC, said the results were "startling weak".
He said the company's plan to focus on corporate customer, might fail.
"While we applaud the decision to focus on retooling the company into a niche enterprise focused business, it seems years too late.
"Just as the consumer business has crumbled, the enterprise business is also in decay in our opinion.
"Given the negative news flow from the company, enterprise customers are likely to shy away from committing to a struggling platform," Mr Gillis said.