Celtic signs Stubhub ticketing deal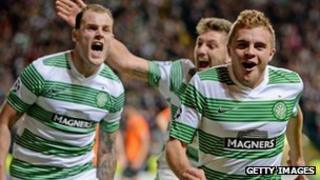 Scottish football club Celtic has signed a deal with eBay-owned ticketing marketplace Stubhub.
The agreement will see Celtic use Stubhub as "an additional distribution channel" for its home match tickets.
Tickets will be independently priced and listed by the Celtic ticket office. The club says it will never sell tickets above face value, nor will there be ticket reselling allowed.
Celtic also says the deal will give them an entry into new fan markets.
These could include the rest of the UK, other parts of Europe and the US.
"This partnership is great news for Celtic fans who may not be able to commit to coming to every home game, but would still like to show their support and attend when they can," said Celtic chief executive Peter Lawwell.
It is the first Scottish signing for Stubhub, which has partnership deals in England with Everton, Sunderland, and Tottenham Hotspur,
The company says it will not price, purchase or own any Celtic tickets itself.
The club will determine match by match how many tickets it wishes to put through Stubhub, but will sell some tickets for every home match through the platform.
Buyers pay a 15% surcharge, including delivery, but Paypal purchasing fees are waived.
As part of the agreement, it will have access to a range of Celtic-connected brand marketing tie-ins,