South African platinum miner Amplats hit by strike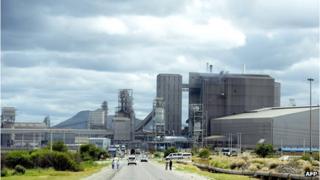 A strike has begun at the world's biggest platinum miner, South Africa's Anglo American Platinum (Amplats).
Amplats said that less than 20% of staff arrived for work at its mining operations near the city of Rustenburg.
Members of the Association of Mineworkers and Construction Union (AMCU) are protesting over Amplats' plan to cut 4,800 jobs.
The company wanted to cut 14,000 jobs, but abandoned that after objections from the government and unions.
Job cuts receive a lot of attention in South Africa, where unemployment is running at more than 25%.
The strike was planned to last 48 hours.
Speaking on South African radio, AMCU president Joseph Mathunjwa said: "We have to always be positive, but the ball is in management's court."
Last year, Amplats, which is 80% owned by Anglo American, reported a 6.33bn-rand ($710m; £452m) operating loss.
Losses were partly due to the disruption of output at its Rustenburg mine, north-west of Johannesburg.
Production there was disrupted for eight weeks in 2012 because of strikes.
Downsizing 'unfortunate'
South Africa's platinum miners are currently in pay negotiations with unions, but the two sides are far from agreement.
The company says it has to cut back in response to lower commodity prices.
Responding to Tuesday's announcement of the strike, Amplats spokeswoman Mpumi Sithole said: "Strikes and work stoppages will result in further losses that will hamper plans for future sustainability
"Downsizing the workforce is unfortunate, but necessary for the survival of the business."