Pound rises after Carney rejects increasing QE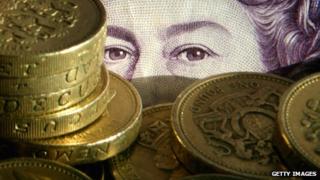 The pound jumped against the dollar after Bank of England governor Mark Carney said that he saw no need for further quantitative easing (QE).
Under QE, the bank has added £375bn to the economy by buying financial assets.
In an interview with the Yorkshire Post, Mr Carney said the Bank would consider the case for raising that spending, if the recovery faltered.
But in his view, the recovery had "strengthened and broadened" and he did not support the case for more QE.
Those comments boosted the pound. It rose a cent to 1.6132 against the dollar in Friday trading.
In the interview with the Yorkshire Post, Mr Carney said: "The advanced economies as a whole are doing a bit better. That's going to help the UK as a whole. These are more traditional export markets, so that matters.
"Within the UK, we are probably leading the pack of the major advanced economies as we speak right now."
New style
Analysts say that the markets are still getting used to Mr Carney, who took over at the Bank of England in July.
"Governor Carney's comments were unusually candid for a central bank governor," said Jane Foley, senior foreign exchange strategist at Rabobank in London.
"His comments were in tune with the minutes of the last MPC [monetary policy committee] meeting, but the markets are unaccustomed to hearing a governor be so straightforward."
Minutes from September's meeting of the MPC said that recent economic data and business surveys "provided further evidence" that growth was picking up.
Not only would the economy be stronger than first thought in the July-to-September quarter, but the likelihood was that growth would continue to strengthen for the rest of the year, the minutes said.
Two MPC policymakers who had previously suggested that an expansion of QE might be required to aid the economy further have now revised their views, according to the minutes.