Japan's consumer prices rise on higher energy costs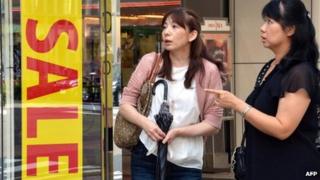 Japan's consumer prices rose for the third month in a row in August, a boost for policymakers as they attempt to end years of deflation or falling prices.
Consumer prices, excluding food, rose 0.8% from a year earlier.
The growth was mainly stoked by energy costs. Japan has been relying heavily on imports to meet energy demand after all its nuclear reactors were shut.
But a weakening yen, which has fallen nearly 25% against the US dollar since November, has made imports more costly.
The yen's decline has been triggered mainly by the aggressive policies unveiled by the new government, which includes a 2% inflation target, to try and revive the Japanese economy,
According to the statistical bureau's latest data, fuel, light and water prices rose 6% in August, from a year earlier.
If food and fuel are taken out, consumer prices actually fell 0.1% from a year ago.
"The ongoing rise in inflation is still mostly a reflection of the slump in the exchange over the past year," said Marcel Thieliant, Japan economist with Capital Economics.
Reviving growth
Japan's economy has been mired by deflation for the best part of the past two decades.
The trend has been a big hurdle to its attempts to boost domestic consumption and has hurt its economic growth.
Falling prices hurt the economy as consumers and businesses tend to put off purchases in the hope of getting a cheaper deal later on.
Prime Minister Shinzo Abe, who came to power in December last year, has made reversing that trend a key part of his economic policy.
Japanese policymakers have unveiled a series of measures in recent months to try and trigger a fresh wave of economic growth.
These steps, which include doubling the country's money supply, have started to have some impact.
Earlier this month, Japan revised up its growth data for the April to June quarter, adding to hopes of an economic recovery.
The world's third-largest economy expanded 0.9% during the period, compared to the previous three months. That translates into an annualised growth of 3.8%.
The initial estimate of quarter-on-quarter growth was 0.6%.