JP Morgan boss Jamie Dimon meets US regulators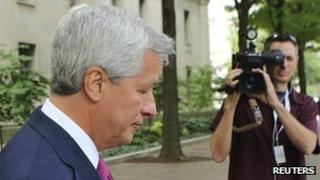 JP Morgan boss Jamie Dimon has met US regulators in a bid to resolve investigations into whether the US's largest bank misled investors.
"I did meet with representatives of JP Morgan," said US Attorney General Eric Holder, but he did not disclose specific details.
JP Morgan is being investigated by several US agencies over the sale of investments which turned sour.
It is thought that any settlement could run into billions of dollars.
"We have matters that are under investigation. I expect to be making further announcements in the coming weeks, the coming months," said Mr Holder.
US media has reported that JP Morgan could agree to financial penalties of several billions of dollars to pay back investors and consumers who lost money through transactions relating to mortgage-backed securities.
A crack in the fortress?
Mr Dimon has boasted in the past of the JP Morgan's "fortress" balance sheet and maintains that there would be enough money to cover charges and still remain profitable.
The bank warned in recent earnings statement of potential fines by US regulators.
Already, JP Morgan has hired 4,000 people and spent $1bn to beef up its governance operations, which monitor the bank's trading risks and evaluates legal compliance.
Seven federal agencies, several state regulators, and also foreign governments are said to be investigating the bank.
A sticking point in the negotiations over a wide-ranging settlement could centre on whether or not JP Morgan will admit wrongdoing, which would open the bank up to lawsuits from individuals.
Last week, the bank agreed to pay $920m to settle charges relating to the "London Whale" trading scandal.
In 2011, JP Morgan settled similar charges relating to misleading investors about mortgage-backed securities with another agency, the Securities and Exchange Commission. The bank agreed to pay $153.6m in June and $296.9m in November.