Stephanie Flanders to leave the BBC for JP Morgan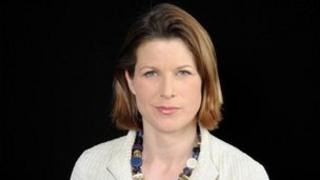 The BBC's economics editor Stephanie Flanders is leaving the BBC to join JP Morgan Asset Management.
She has been with the BBC for 11 years, five in her current position.
Ms Flanders said she would miss the BBC and the people she had worked with, but that it was time for a new challenge.
She said her new job, as chief market strategist for the UK and Europe, would afford her more time for research and developing a deeper understanding of the markets.
She will stop working as economics editor immediately but will continue to present Start the Week on Radio 4 before taking up her post in November.
'Master of Money'
During her time at the BBC she worked on Newsnight, and presented on both TV and radio, notably her "Stephanomics" series on Radio 4, which took the title of her blog posts.
She also presented the "Masters of Money" series on BBC2 last year.
James Harding, the BBC's director of news and current affairs, said: "Stephanie has given our audience unrivalled coverage of the economy - the most important story in Britain in recent years. She has done it with intelligence, understanding and good judgement.
"She will be sorely missed by all of us. And we wish her every success in the future."
Ms Flanders said: "I've had an incredibly rewarding time at the BBC. I'll always be grateful for the chance to report on the economy at such an important time.
"I'll also be helping to grow a business. That's something I've never done before. Having spent all of my working life as an economist, talking about the market economy - this feels like the right time to give it a try."
Robert Peston, the BBC's business editor, said she had been an "outstanding" colleague, adding: "She has made an enormous contribution to the BBC, because of the authority and clarity of her journalism. We all wish her well in her new and challenging role, but I will feel the loss of an always stimulating and supportive colleague."