NFL: Vikings owners see bright future in new stadium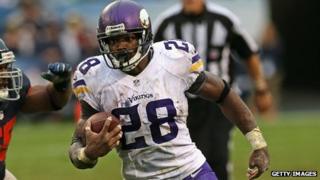 When Mark Wilf was a boy his family used to bond around the television watching games of their favourite American football team, the New York Giants.
Now, decades later, he and brother Zygi are part of the ownership group of one of the Giants' NFL rivals - the Minnesota Vikings.
After forking out $600m (£374m) in 2005, the franchise is now reckoned by Forbes to be worth $975m.
They take to the Wembley playing field on Sunday against the Pittsburgh Steelers, in the latest regular-season game in London as part of the NFL's global proselytising efforts.
"It was always a dream of mine to to be involved in the NFL," Mr Wilf tells the BBC News website.
"I have always been a big fan of American football, and it was a big part of growing up for me. My family were all Giants fans, and we followed them through all their ups and downs."
'Challenging project'
As president of the Minneapolis-based Vikings, Mr Wilf plays a major role in the financial side of the team, managing day-to-day operations and heading up all the club's business departments.
He has also played a major role in the Vikings' stadium development plans, with work on a 65,000-seat state-of-the art stadium due to begin this autumn, for completion in August 2016
In a move that will make British football clubs green with envy, the $1bn project - to be built on the site of the current Mall of America/Hubert Humphrey Metrodome - is being 50% financed by the public sector.
"A project this size is very challenging and difficult, and we could not have funded it privately ourselves," says Mr Wilf.
It will have an clear plastic roof, and it is hoped future NFL Super Bowl finals will be played there, as well as the end-of-season NCAA college basketball tournament.
'Transition period'
Mr Wilf says the Vikings are near the bottom end of the NFL revenue table, and the new stadium will boost income, through naming rights, sponsorship, executive boxes, upmarket "club" seats, and extra food, drink, and other concessions.
Local US media put the potential additional income at $30m a year.
And he sees the development as "spurring economic growth" in the city, as the wider development also has the potential for offices and a park.
For the two years of construction, the Vikings will play at the University of Minnesota's 50,000-capacity TFC Bank stadium.
"In our transition period moving towards our new stadium, we thought it would be a good idea to come over here and promote American football, as well as Minnesota and its business and commerce," he says.
Mr Wilf's parents were both survivors of Nazi-occupied Poland, and the family moved from Germany to the US in the 1950s.
He and his brother built an empire around home construction, shopping malls and other property development, before moving into sport.
And, as part of the stadium development, they have the opportunity to own a football (or soccer as it is known in North America) franchise.
"We are business people, and any business opportunity is something that we would look at," he says, despite saying they have their "hands full with the Minnesota Vikings".
Mr Wilf says the expansion plans of the US Major League Soccer (MLS) potentially allow for either an existing franchise to move to Minnesota, or for the creating of a new one.
"We have an exclusive time window to decide, and it is something we are investigating strongly," he says.
He points out that the televising of Premier League football matches on US network television has helped grow football's fan base in the US.
'Right people'
Meanwhile, the NFL club has a major desire to become even more rooted in the local community, and all 53 of the Vikings players are encouraged to spend Tuesdays - their training day-off - visiting hospitals, schools, or similar institutions.
"Being a Vikings player is being an integral part of the community," he says. "When we draft players we look not only for physical attributes, but that they are the right kind of people."
He admits that unlike top international football clubs, American football teams such as the Vikings do not have fan bases in growing markets such as South East Asia and East Asia, although the NFL is putting effort into selling the sport in China, and of course the UK.
"We have not got a major presence abroad yet - that is part of what we are trying to grow, but we also want to grow a strong social media presence in the US," he says.
As part of that strategy the new stadium will be wi-fi enabled so that fans attending matches can get the "second screen" experience on their pads and other devices - including instant action replays - that they would get watching at home on TV.
Level playing field
Mr Wilf lauds the NFL's even-handed distribution of TV rights, whereby each of the 32 teams, not matter how big or small, get an equal share of broadcast revenues.
"It is a strength, and underpins the NFL - it enables us to remain exciting and competitive," he says.
"By pooling the resource, it enhances competition."
And it is an important principle, as some two-thirds of teams' revenues come from TV rights.
Similarly, a seasonal revenue cap means the biggest teams cannot financially outgun the others.
"That also works very well in keeping things competitive," says Mr Wilf, who was attending a Sport Industry Group gathering in London.
"Many cities want to have an NFL franchise, it is good for business and communities," he adds.
One unwanted distraction has been a New Jersey court ruling this year ordering the Wilf brothers to pay damages to a former business colleague, over allegations of breaking civil state racketeering laws.
"We obviously disagree with the court's finding, and will be appealing [against] it," he says.
"It will not have any impact on our stadium development plans."