Clydesdale Bank fined for mortgage errors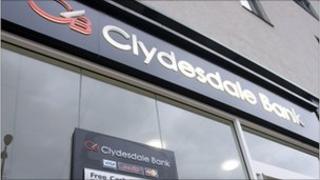 Mortgage customers of Clydesdale Bank will be compensated after being treated unfairly when the bank tried to fix a miscalculation.
The Financial Conduct Authority (FCA) has fined the bank £8.9m because customers had to make up for the bank's errors in 42,500 accounts.
The FCA said Clydesdale's response was too concerned with its own commercial interests. The bank has apologised.
Around 22,000 customers will receive payouts of between £20 and £18,000.
Higher repayments
The calculation errors on customers' mortgage repayment demands occurred over a four-year period to 2009. Those with variable rate home loans were affected.
As a result, these 22,000 customers had underpaid on their mortgages. They were subsequently expected to increase their monthly repayments to cover for the shortfalls and correct the error.
However, the FCA said that it was unfair that the cost was shifted to the customers, rather than being taken on by the bank.
"For most people mortgage payments are their biggest monthly outgoing and we all budget on the assumption that the information our mortgage lender gives us about what we need to pay is correct," said Tracey McDermott, of the FCA.
"Here Clydesdale failed in that basic duty and, when it discovered the problem, sought to pass all of the consequences on to its customers - expecting them to find the money to remedy mistakes which were entirely of Clydesdale's making.
"Clydesdale is today paying the price for its decision to put its bottom line ahead of the need to ensure its customers were treated fairly."
'Sorry'
The shortfalls ranged from under £20 to over £18,000 and will now be paid back in compensation, averaging £970.
The compensation will not necessarily be paid as a cheque. Those with outstanding mortgages will see their debt reduced.
The bank will write to those affected by mid-October. It said that the cost of the fine and compensation would total £42m.
"I am very sorry that this was not handled as it should have been. We should have made it clear at the time that this was entirely our fault and that some customers may be entitled to compensation," said David Thorburn, chief executive of Clydesdale Bank, which is owned by National Australia Bank.
"Our priority is to fix this for customers as quickly as possible and they will each receive a letter explaining how we will make this right for them."
Some 14,000 customers will get the redress within 48 hours.
In addition to the 22,000 people who underpaid, a further 20,500 who paid too much, some of whom paid off their mortgages early, may be able to claim compensation as well. They will also receive letters.
Taking action
When news of the mortgage errors emerged in 2010, some customers who contacted the BBC said the bank should accept its mistakes and write-off their arrears.
They argued that they were being asked to repay several hundred pounds more per month, for the remaining terms of their loans.
Some took their cases to the Financial Ombudsman Service and had the extra demand written off.
A spokeswoman for the service said that it received around 600 cases in total. It found in the consumer's favour in the majority of cases.